March 2014
Brilliant Day at Quainton
Bosco and Quad were just simply amazing the other day at Quainton. Bosco scoring a 73.9% and 68% test in his first Ele set the tone of the day. Quadrille performed his first medium test and scored a very respectable 63%. Considering he was a little worried about why thin strips of white board were placed in the arena surface, and a few baby mistakes I am beyond thrilled at how well he coped with the new higher level test. Very excited about the next few months with these boys!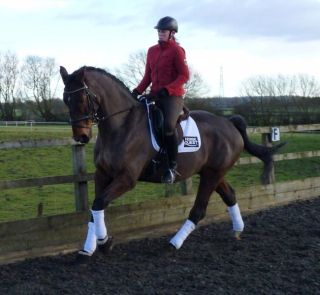 Joli Keeps on Improving, Bosco secures Regional Qualification
Joli has slowly been progressing in her work at home, and we thought it would be best to try and gain her qualification for PetPlan areas at Novice. Joli gets worried and stressed in competition environments and it has taken a lot of time and patience so slowly build her confidence. A few moments of tension lead to a couple of smaller marks, but generally the work in her tests are becoming better and she is allowing me to help her rather than thinking she has to do it all by herself. Bosco went in both Novices and secured his final points needed for regional qualification. Very good day for the ponies.
Quad Secures Regional Qualifiaction and Emily makes her Debut at Affilliated Level
On board Desmond, Emily competed in her first 20x60 arena and her first affilliated test. Having spent the majority of the week convincing Emily that there was a point to having extra letters in the arena and you would need to use those letters, she rode a beautiful test and was awarded with 6th place. There is so much to come from Emily and Desmond, so keep on watching here for their progress! Quad went later in the day and won his Elementary class, even qith a few hiccups on the left canter due to an avery being next to the arena. His win and score of 65% secured his regional qualification at Elementary Open. he has managed this in only three outings and I couldn't be prouder of him!
February 2014
Regional Qualification Done for Quadrille
In only three outings Quad has finished his qualification for Summer Regionals at Elementary Open. He finished it off in style by winning both of his tests at Allens Hill, clear by 8% in one class! Joli travelled with Quad to compete in the Novice classes and was placed second and fourth. Her first test, she would not relax and the tension showed throughout her canter work. Her second test she was far more relaxed and was given the marks she deserved. Well done guys!
A New Sponsor Joins Team TB
I am super thrilled and excited to be introducing none other than Roeckl to our team. Roeckl specialise in the manufacture of hgh standard riding gloves. Their product is known and used worldwise by many memebrs of the equestrian community. I am very honoured to be given this opportunity. To look at their products, please click here for a link to their website.
No Stopping the Boys at Oaklands
We have come home with a lorry full of red rosettes from both Bosco and Quadrille. Both boys shone at Oaklands college and were impecibbly behaved. Bosco was a little fresh in his first test, producing work from 9's to 3's, but settled for a much more consistent test for his second attempt. Quadrille was a little tired in his second test, butt still came away with very good scores, and produced work that gave him 9's in both tests. I am so impressed by just how much these two have grown up and are now being able to relax and produce work of a very high standard when in the arena.
New Home For Vera
Vera has found a lovely new home with Katie and we will be evry sad to see Ms Vera leave us once again. Katie hopes to compete Vera in dressage and a bit of showjumping. Keep checking here for updates as to how she is getting on.
No Stopping Amanda and Rosie
Rosie and Amanda continue their success by winning both able bodied prelims at Keysoe the other day. Without tempting fate, this pairing is yet to score under 70% this year! Times ahead are looking pretty exciting!
Back To Competing Ways
After having had a few months of training, I decided it was high time Quadrille donned his white bandages again before heading off to Nationals in April. I took him to Addington to cpmete in one of the Elementary classes. I am so thrilled at how this chap behaved and performed. He was focused in the warm up and produced some of his new 'big' trot work. Every now and again when he was a little distracted or tentative. he lost the swing and cadence that he can produce at home and became a little tense in his neck. He was awarded with 7th place, which I am very proud of him for. Here is to a good, and hopefully concentrated 2014!
Amanda and Rosie Carry on with Winning Ways
Their first able bodied affilliated tests and Amanda and Rosie rock it out to win with 71 and 74%! I was lucky enough to bump into Amanda the other day as she was working on Rosie's music for their freestyle test....all I'm going to say is that its brilliant and fun, cant wait to see it all put together!
Addington: A day of Firsts
Wow, what a brilliant day! Today we had a day of firsts; both in terms of starts and placings. Emily and Chester pereformed their first dreessage test together. I was thoroughly proud of Emily being thrown in at the deep end and warming up by herself (she is 12) and producing a very accurate and well ridden test to be placed 8th. Minty and Bea performed their first Novice test and were placed 11th. This combination is really beginning to flourish and Minty's deidcation and hard work is showing in their results. Zidane had his Team TB debut and went and won his class with a whopping 72.9% and has now qualified for the championships! A brilliant end to the day came in the form of Claire and Kasca who performed their first Advanced. I had tears in my eyes watching this ever growing partnership. Claire hasnt even had Kasca a year and has gone from Walk trot tests to Advanced level in 11 months. I am beyond proud of Claire, her dedication, hard work and determination and the superstar that is Kasca. Well done Team Padbury!
January 2014
Rosie and Amanda Start 2014 with a Bang
Amanda and Rosie kick off 2014 with a bang of two red rosettes at Keysoe in the able bodied competition. Very impressive scores of 71+%. They have qualified for the National Winter Champs at Hartpury and look a brilliant picture. Well done guys!!!!
Mister Glum Training Partnership-Competition Time!
Louise Robson of Thoroughbred Dressage is offering an exciting opportunity to develop you and your ex-racehorse's expertise in the training arena and at competitions.
Thoroughbred Dressage has been running as a business for almost three years now and I want to use my expertise and experience with retraining ex-racehorses for dressage to 'pay forward' the opportunities I've been given. In 2014, I plan to expand Team TB by supporting a rider of an ex-racehorse through their dressage season, whatever level or discipline they've achieved so far.
My foundation horse, Mister Glum, who is owned by the Queen, has progressed from happy hacker to PSG competing at Premier League shows in the 14 years we've been together and this partnership is named in his honour. I have trained with my ex-racehorses under some of the top trainers in Europe and UK: Monica Theodorescu, Carl Hester, and Fiona Bigwood. I compete ex-racehorses of varied ages, experience and ability, from Prelim to Advanced level. I have many years of experience of working with a variety of horses and breeds, which allows me to bring a range of ideas and training techniques into the training arena to achieve the best performance from you and your equine partner.
As Mister Glum and I progressed we often faced the need to justify our competitive appearances although our footwork usually did most of the talking! I want to give you the opportunity to work with a trainer who understands thoroughbreds and their potential so that you will never feel you have to explain yourselves again.
Your horse doesn't have to be ready to do a PSG test: it may be that you want to start competing, or make a transition from one level to the next, or you may be an eventer wanting to improve your dressage. All ages and abilities of horses and riders will be considered.
The Mister Glum Training Partnership offers:
One lesson per calendar month
Support and advice at competitions, including in the warm-up arena
Intensive training period(s)
Video analysis of your riding/tests
Feeding, nutritional and saddlery advice
Updates about you and your horse on my Facebook and website
The rider I am looking for:
Must compete an ex racehorse
Must be registered with BD, or intending to register with BD in the next few months
What you need to do:
All you need to do is tell me why you and your horse should be the recipients of the training partnership. Please include details of your current level of training, competition experience and ambitions for 2014. Please include a picture of you and your horse
Please email: louise@thoroughbreddressage.com
Closing date 28th February
Winter Regional Qualification
Lovely BD have sent all the horses their various qualification letters. Quad for his Petplan Finals at Hartpury (along with regional Qualifocation, but we won't be attending regionals and focusing on the Summers instead!) Rosie with Amanda Shirtcliffe have gained their place at the Winter Nationals in the Grade II Para class. Exciting time ahead.
Bosco and Cara Shine
Cara and Bosco travelled to Addington and proved that after some hard work over the winter, it does pay off. Cara was thrown thoroughly in the deep end. After having had a month off, due to holiday, she was ridden only for one week before this competition due to another horse having to be pulled out. This sparky little mare did not disappoint and produced a 63% in her first ever Novice. Bosco was up in the afternoon. Having had almost a year away from competing, due to being a schoolmaster horse, Bosco thoroughly enjoyed his triup out. Even with four big mistakes, due to mis communication, he still pulled out a whopping 66%. Go team!
Beating those January Blues
On the success of the week before, we took Joli back to Wing to compete in the PYO class to gain some valuable experience before we 'up a gear' and head out further afield. Due to a somewhat interesting warm up arena. Joli wasnt as settled as the week before. She was still placed second and did some lovely work, but the relaxed and balanced nature she had the weke before was not there. Joey travelled with Joli to compete in his first dressage test. I was super proud of Joey and what he has achieved in such a short amount of time, being here with us at Team TB. Impeccibly behaved, he was awarded 63% in his test, even with a few wobbly 'straight' lines.....
New Faces to Team TB
The last few weeks have seen a change to Team TB, so I thought I would take the opportunity to introduce the new faces;
Joey: Joey first arrived to Team TB on training livery and has now progressed to sales livery. Joey is 11 years old and a sweetheart of a horse with a very cheeky expression on his face. Joey will be available for sale in the next few weeks after he has done a bit of competing.
Vera: Due to unforeseen circumstances Vera has returned to Team TB on sales livery/possible loan/loan with view to buy. It s a very heartbreaking decision for her owner. Vera will be competed in the up and coming weeks and then be offered for sale. It is sad, but lovely to have this wonderful mare back in the stable, she is such a delight!
Desmond: Desmond comes from up north where his owner Jayne has had this delightful chap for 9 years. Due to owners ill health and demanding lifestyle she has made the very hard decsion to sell him. Keep posted here for updates with Desmond
Bosco: Due to owners ill health Bosco is available for sale. Louise has known Bosco for almost year now. By Don Bosco x Lauries Crusador, Bosco possess the 'look at me factor.' This gentle giant will be competed in the up and coming weeks and would make a fabulous horse for anyone wanting to compete seriously in the dressage world.
Check out the 'Horses for Sale' Page for more details and pictures!
Brilliant Start to the New Year
Only 4 days into the New Year and Team TB has already had a win! One of our new members; Joli, had her first outing and surpassed all expectations to win the PYO (novice) class with a very very credible score of 68.9%! As with every new partnership we have quite a few mistakes to iron out and work on, but I couldn't have been prouder of this elegant mare. (especially considering we were paddling through a lake at the C end!)
Happy New Year to Everyone!
Happy new year to everyone from the gang here at Team TB. Looking back at 2013, we achieved so much and grew so much as a stable, that I am hoping we can sustain and hopefully grow upon what we have achieved so far. The year saw articles in Eurodressage and Dressage Today magazine. Many new faces arriving to the team and finding new homes, or staying and progressing as Team TB competition horses. We already have Quad heading to the PetPlan finals in April at the Winter Nationals, and his regional qualification at Novice and Elementary achieved. I have decided not to attend the Winter Regionals with him and focus upon Regional Qualification for the Summers at Elementary level and look to our Medium debut (eeek!) in the Spring.
November 2013
Yogi has a New Home
I am thrilled, yet a little sad, that we have had to say goodbye to this wonderful little character. Yogi has found a wonderful home with Jo down towards Brighton. I am very lucky that I have been asked by Jo to keep on training her and Yogi so I get to see this wonderful horse. Good luck guys and keep us updated!
Yogi Shines, Quad has a 'Thoroughbred' Day
I took the young boys for a trip to Addington to have a nice outing before Christmas comes to play and put competing on hold for a while. With times very tight between the two boys and having QUad first, then Yogi, then Quad again, plus a very windy and cold morning, resulted in a tense Quad with a few 'bouncy' moments. It was a shame as Quad has recently been on such good form, but its horses and it happens! Yogi was his usual superstar self and was fourth in his prelim with his scores increasing every time he goes out with wonderful comments from the judges!
Team TB On EuroDressage!!!!
I am thrilled, and highly honoured, that we have had an article written about Team Tb on Eurodressage. The focus is upon my fantastic foundation horse, Mister Glum with mention of the other members of the gang. To read the article click here.
Success at Vale View
With only a few points left to go for Regional qualification I took Quad back to the 'scary arena' of Vale View to compete in the Elementary class. Quad showed his recent form of maturity and was placed 2nd in the Ele with 65.88%!!! Edward was fourth in the medium 73, just 2 more points to go for his regional qualification as well!
Incredible Day at Aston Le Walls
Quadrille is going from strength to strength. If you ahs asked me in September what my goals were; it was Novice regional qualification. After today, where Quad scored 68% in both his novice and his Elementary class, he is now just a few points shy off regional qualification at both levels. I am super super proud of this little powerouse!!!
RoR Championships
What a day!!!! Quadrille decided to show just how grown up he can be and was placed third in his novice class out of 32 entries and was 7th in the Elementary. This is a beyond HUGE improvement on four weeks ago when we were at Vale View for the Petplans and we barely scraped 57%! It was not just competing that I enjoyed. I was lukcy enough to be able to see Gemma and Rikki compete in the Elementary class where they were joint 6th with Lauren and Edward who are on training livery with me. SUCH a good day for Team TB, where all the boys behaved and loved their prize givings!!!
Rosie and Amanda See Red
It has been a m imcredible start to a wonderful new partnership. Rosie and Amanda went and won the C&T Championship at Prelim level with an INCREDIBLE score of 77.8%. To then add to their success Rosie went and won her Para Tests a few weeks later. I am beyond excited for this partnership!!! Well Done Guys!!!
New Team TB Member
We welcome Joil to our (very boy based) team of thoroughbreds. Joli is owned by Sally Mainland and will be aiming for Summer Regional qualification at Novice level. THis mare has a beautiful trot and a nice trainable attitude. Keep checking for updates on her progress
October 2013
Edward at Bury Farm
Edward and Lauren travelled to Bury farm to compete in the Medium class and try and gain their Winter Regional Qualification. They won the restricted section in the M69, but tension crept in in the M73, which lead to a reduction in marks.
SummerHouse Area Festival
What a day!!! With horrendous weather I was rather dubios about going and competing as Quad really does not favour the wind and rain. Having arrived at Summerhouse to puddles galore and parts of some of the arena with standing water, I still questioned whether or not I should get on; I'm glad I did! Even with boards and banners Quad kept him cool and produced probably one of the best tests he has done for me to date. He was rewarded by coming joint 1st in the Novice Open (second due to collectives) so we are off to Winter Nationals!!!!!! Our Elementary class went to pot as it was announced about the Novice, seconds before I was due in the Ele. Even with about 7/8 mistakes we still managed a 62.9% considering the whole way round I wasn't very focused. Quad was incredibly behaved in prize giving and I enjoyed every second of it!!!
Team TB sees Red
It was Elvis' first outing with Team TB. Having only been with us for three weeks, this lovely boy went and excelled in the novice, scoring a 68% and coming second in the open section. Edward and Lauren competed in the Elementary class to gain their RoR Championship qualification. This pair excelled in both Ele classes and won in emphatic style, scoring 68 and 70% HUGE well done guys!!! Bring on the finals!
Chips Update
Kathryn and Chips are enjoying growing as a new partnership. I received a message from Kathryn saying that they are enjoying hacking and jumping together and her confidence is growing each day. I am so happy that this new combination is working and thriving.
A Day of Progression for the Boys at Team TB
After the Summer Regional Qualification push for Quadrille, I had hoped to come back out in full strength for the Winter Regional Qualification; however, Quadrille had other plans. On our last three outings Quadrille has not been able to achieve over 60% due to silly mistakes and tension. Quad went above and beyond my expectations at a venue which he has never been too and scored a whopping 67.9% in a very strong class coming fifth. I was so proud of the little chap. He then went outdoors to do the Elementary, which was riddled with mistakes due to spooking at the scary sand bags. He still managed 63% and was third. I am so excited about what Quad will achieve once we iron out some of the mistakes…… Edward had a day of mixed fortunes. In both classes, lots of very small mistakes led to a test full of an array of marks. Onwards and upwards!
September 2013
A good End to the Summer
I am thrilled to announce that Jess won the Whaddon Chase Pony Club Eventing Cup after their achievments during the summer. I am so proud of how hard Jess has worked at building the partnership between herself and Bill. Well done guys!
New Horse power for Emily
Emily had her first competition with her new horse Lucky at Wing Combined Training. After a very good dressage test, the skinny fence caused a bit of a problem for this new combination. I am very proud of Emily for the vast improvement she has showed in such a short amount of time, especially with the transition from ponies to horses. I look forward to seeing this combination grow.
Welcome to Elvis
We welcome Elvis to our team. Elvis is an 11 year old TB. Elvis has competed upto PN level Eventing and has scored well at Novice and Elementary level dressage. Elvis is a lovely boy and will be available for sale in a few weeks once he has settled here and we have done a little bit of work with him. Pictures/updates will follow
Chips Has a New Home
It is with sadness, that I have had to say goodbye to Chips once again. Chips has found a lovely home with Kathryn, who is looking forward to gaining confidence in showjumping and XC. Enjoy him Kathryn he is a lovely boy.
Rosie Performs Her first Para Test
Rosie and Amanda competed in their first competition at Patchetts over the weekend. Their first test was a little shaky due to confusion of turnings and transitions. They came back with fighting form to win the second test! Well done guys- next week Para Competition at Patchetts again. Watch this space
A 'Thoroughbred' Day at PetPlan Area Festivals
After Quads 'rattle' at Keysoe on the Wednesday it was hard to get him to focus at Vale View. In both of his tests he had moments of 7/8's, but we also had moments of 1/2' s! It was very hard to get him to concentrated, but also to relax and stay on the aid. On the second day it was Edward and Laurens turn. Edward has been learning 'new gears' within his paces to allow for better moments of collection and cadence in his work. Although Edward seemed to be on form, unfortunately nerves got to Lauren. A couple of errors of course lead to the handbrake being applied to allow for a safe round. (One of those days!)
Chestnut power returns to Team TB
We welcome Yogi to our stable. Yogi is only 6 weeks out of racing and is an absolute sweetheart! Yogi is owned by Liz Gerald Walsh and has asked Thoroughbred Dressage to help Yogi with his first steps into the re educating process. Yogi has three lovely paces and a very willing and trainable attitude. I am really looking forward to working with this chap. Updates to follow!
Good Fortunes at Keysoe
Today we took Chips and Quad to Keysoe to compete in the novice and elementary class. Chips was placed third in both of his novice class. Quad had mis fortunes in the novice class when someone decided to move a clothes rail just as he was walking towards the area. Throughout his test the poor little chap did not want to go near the scary end at A, which was very understandable. Quad showed true form when he went and scored 64% in his second ever elementary and placed fourth. I was so proud of this young chap. Next outing; PetPlan Areas!
Edward and Laurens Test Run Proves Successful
Lauren took Edward to Vale View for a practice run before Pet Plan Areas. This outing proved worthwile and successful. Edward was a little tense in his first test, due to the scary bunting (which will be out next week for Areas) which resulted in lower marks due to lack of throughness. His second test was much improved and saw him being placed third. Hopefully all of the hard work will be worth it next weekend. Good luck guys
Thoroughbred Dressage Goes 'State Side'
During our trip to Germany in March 2013, we had a photo shoot and co wrote and article with silke Rotterman for Dressage Today Magazine about the re training of racehorses into dressage. I had so much to say that they split the articles into two parts, the first part being an introduction and the second part being a training article. I am so so proud of the outcome and look forward to seeing the second article in the October issue
August 2013
Rosie to Become a Para Horse
It is a bitter sweet time here at team TB, Rosie has just been sold to become a Grade II para horse, with the aims of Normandy 2014 and Rio 2016, with rider Amanda Shirtcliffe. I am so thrilled that this mare will potentially be on the world stage, and she is going to a lovely home where she will be spoilt rotten and treated like a queen. I am in the lucky position that I have been asked to help Amanda with her training with Rosie for the next few weeks so the partnership gets off to the best start possible. keep looking here for updates about how she is getting on.
Casper Finds A New Home
It is of no surprise to me that this gorgeous chap has found a new home in such a short amount of time. Casper arrived at team TB not in the best of shapes, but with some TLC and food, he has thrived over the past few weeks. Casper is an absolute darling of a horse that doesnt have a nasty bone in his body. He proved this to us, when we sat on him, which turned out to be the first time anyone had sat on him (unknown to us!) and he did walk, trot and canter all in the first five minutes. Casper has now found a lovely new home with Lewis, who has a TB called Toby, whom I have been helping him with for the past 6 months. Casper will stay within the 'Team TB family' and will keep on updating here with pictures
Pony Club ODE Success
Jess and Bill won their section at the Pony Club ODE held at Gawcott. I am so proud of Jess and what she has achieved in such a short amount of time, with a new 'ferrari' type of pony. Just goes to show what hard work and dedication can do. Well done Jess, onwards and upwards!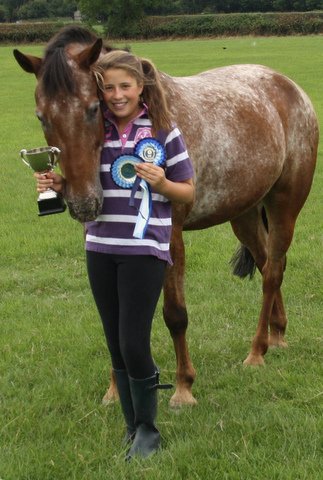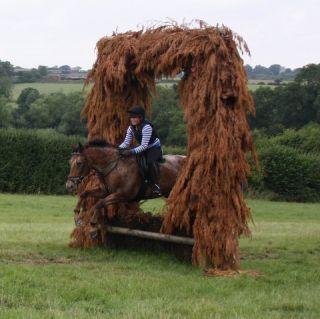 Addington Unaffilliated
Saturday saw the return of Joli to the competition arena after a period of 9 months recovering from a horrible injury sustained in the winter. Sally and Joli competed in the prelim and novice classes. Although the prelim class got off to a shaky start, the novice was much improved and I look forward to seeing this combination progress through the winter months. Claire and Kasca were on in the Elementary class. Having competed only 48 hours earlier, Claire was getting used to the 60x20m arena and half way through thes test found herself worrying about the constraints of the 40x20m arena. The trot work was flawless, but the canter became tense. It was a shame, but its all in the name of experience.
A Very Good Day at the Office
Today we saw Claire and Kascas affilliated debut at Addington in the novice class. They did so so well and were second! Quadrille went in the Novice class and was rather tense due to an rather unsettling warm up arena. He still managed to keep it together in places to win the Noice Open section. Quad then went on to perform in his first ever Elementary test. He was fifth with 63%! I couldnt have been prouder of this little chap. He tried so hard for me, and even with moments of tension and not full throughness, he still pulled out a very good score. In the afternoon Ms Rosie came to play in the medium classes and was placed second in both of her classes. She was so uphill and engaged that I was beginning to struggle to hold her together in places. I knew by this stage that Rosie was sold subject to vet, so I made sure I enjoyed every step we took and really showed off what this grey wonder could do. A very good day for us here at team TB. Well done guys!
Edward Excels at Vale View
After a shaky start to the Winter Regional qualification season at Swallowfiled, Edward and Lauren came back with a bang at Vale view, by winning the M61 with 66%, 8% clear of second place. Lauren and Edward have really progressed with their training and are now looking fine tuned and more supple and engaged in their work. Next stop: Petplan Areas!
U25 Championships
Willow took Newbie and Chips to the U25 Championships at Sheepgate. The ridiculously early start and very long day was truely worth it to see these horses flourish in the environment. Newbie came away with best 5 year old in both of her prelim classes and Chips held his own in the Novice class. I was so proud to watch and help these combinations . I also got to see Ricky and Gemma perform too. Go team TB!
Kasca First Affilliated Test
Claire and Kasca competed in their first affilliated test at Witham Villa. They scored well, even if Kasca wasnt paying full attention at some points. Onwards and upwards guys! I took Quadrille with Kasca and unfortunately Quadrille, my thoroughbred, turned up to play, not Quadrille the dressage horse. With Quads recent run of form, I have become to expect more from him. Today, just proved to me how young he is and that he does still require so much time. Time to return home and keep on training!
Rosie on Form at Swallowfield
After weeks of frustration at scores, Rosie finally got the scores that we have all said she is capable of and should be getting. Rosie went and won both the Medium classes at Solihull. I was thrilled with how she went. As per usual, Rosie gave me everything she had and this time she was rewarded with her efforts. Edward travelled with us to Swallowfiled. Tension and a little bit of tightness in the frame lead to lower marks than usual for Edward, but he was still second and third respectively in his classes.
Chips Shows Yet More Improvment
Chips went to Solihull with Willow and performed his best tests to date. He has now found 'the next gear' within all 3 paces and his scores are improving with every outing. Well done guys, your hard work is really paying off. Next stop: Under 25's Champs where Willow is also taking Newbie!
Regionals
At 8.30 am (two hours before we were due to leave) I was thrown from an Advanced horse onto the concrete, braking my hat and badly bashing my cocxis. Walking and bending were a little on the difficult side, but I was determined that Rosie and I would go. Over the last few weeks Rosie has really taken to the additional pressure put on her and I felt like I had to do her justice and go and compete her. Two and a half hours of driving to Wales I went to get out of the lorry to find myself walking at shuffle pace and yelping when I clambered up onto Rosie. She warmed up beautifully and riding (even sitting trot) wasnt painful. Unfortunately for Ms Rosie we had two factors against us; the amopshere of the arena and the judge at M. Rosie lost all of her sparkle and 'look at me' which she usually possesses. She became tense, nervous and unsure with the loudspeaker, array of cars and arenas running side by side. With a test with quite a few small 'blips' two judges had us at 64 and 65%, the judge at M however had us at 57%. We had the biggest margin between judges of 28 marks! I took a lot away from the day and am proud of Rosie and what we have achieved in such a small amount of time. Here is to Winter Regional Qualification at Medium and Advanced Medium! (and to my back having a rest for a few days!)
Placings at Moreton Morrell
We have just had a brilliant day at Moreton Morrell. Claire Jones' Newbie was placed second in her first novice class. True to form, Newbie was very relaxed about the whole affair, a little too relaxed in certain places. Newbie keeps on improving and getting stronger each day and I am very much looking forward to producing this mare through the levels. Chips and Willow were placed third in both the prelim and novice class. This combination keeps on improving with each outing. They are qualified for the U25 Championships at the end of August.
Elmo To be an Eventer
Elmo has found her new home; at Aston le Walls with Eventer Jodie Amos' head girl Jemima. I am really looking forward to watching the progress and development of this pair.
July 2013
Update from Rikki and Gemma
'he is doing well and I am really pleased with him. I am pleased to say he has qualified for novice and elementary ror champs and also novice and elementary pet plan. he has also qualified for the under 25 novice and elementary champs at sheepgate in august hope to go out medium soon'
Well done guys, I love this combination!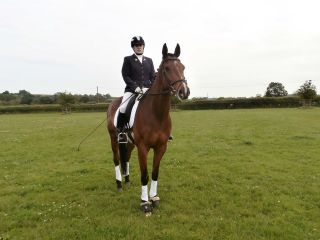 Quadrille Returns to Competition
This little chap just keeps on surprising me! Having had a month off from competition, I thought his return for his Winter Regional campagin would be a little skyward. Quad went above all exceptations and scored two solid 64% tests to be 5th and 6th respectively. I am so proud of this little chap, I just need to be braver and not be afraid to ask for a little more to achieve the higher marks. Well done doughnut!
Claire and Kasca Show that Hard Work does Pay Off
Claire and Kasca competed in the Elementary at Addington. Having only been their third time out together I was so proud of them when they were 7th in a class of 17 and ore by a whoppin 8%! Well Done guys, looking forward to the championships in September.
Training Clinic Success
Our first 'Ride a Test Training Day' went really well. The day compromised of riding a test in the morning, which was videoed, then we sat down for lunch, reviwed the test and then re-rode through it again in the afternoon, with a training session attached to it to help with 'sticky' moments in the tests. All riders said how much they benefitted from it-hopefully the hard work will show by an increase in their marks at their next competition. Well done guys!
New Residents of Team TB
We welcome Lauren and Edwrad to our stable on training livery. Louise has been training Lauren at her previous stable near Lecister for a few months now. Edward was runner up at the SEIB Elite Performance awards for ex racers with the most BD points in 2012. We also welcome Elmo to our stable. Elmo has arrived to us to compete and somewhere down the line to be sold. Elmo is KWPN, 4 year old mare by San Remo. This adorable little powerhouse is a joy to ride and train. Keep looking here for both horses progress.
June 2013
So Near, Yet So Far
Six weeks ago regional qualification was truely beyond mine and Quadrilles reach. Although he has been steadily improving his inattentiveness and general way of going was really affecting his marks. It was only after Witham Villa that Quadrille, all of a sudden, decided to grow up and pay attention. His scores have improved by a whopping 10-14% whic has lead to Regional Qualification being obatinable. At the last show before the cut off (July 1st) Quad felt a bit tired and tight. He still achieved a 65.9% test, but we were just shy of the 67% requirement. I do have to remind myself of just how far this little chap has come and he is only just two years out of racing. He is now going to have a two week holiday and we will qualify for Winters, all being well!
Team TB Show How it is Done
Quadrille and Chips travelled to Aston Le Walls, where we were joined by So Ecstatic with Gemma Cheney. It was a lovely day for Team TB boys, with seconditus reigining across the day. Chips was second in both of his prelim classes, Quad took second place in his Novice classes and Rikki took second place in both of his Elementaries. I was so so proud of all three boys and love to see the progression in the boys. Their scores and placings really do emphasise that hard work and correct training really does pay off and work.
Team TB Boys Go out to Play
We welcomed Chips and Willow White along for the journey to Witham Villa the other morning. Quadrille was very excited and happy as it was a whole new buddy to play with and talk to on the trip. I am ever so excited as Quad was placed second in both of his classes and is ever so close to Regional Qualification. Chips and Willow scored really well considering it has been 9 months since they were last out competing. I did throw them in at the deep end by making them do 2 very difficult and technical Novice classes, but they rose to the challenge. I really look forward to working and competing with this partnership again.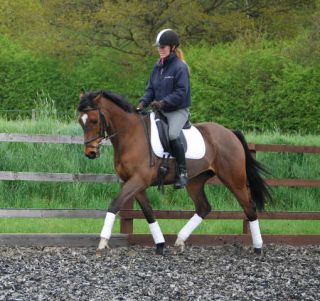 Lauren and Edward Score Well in Good Company
Having spent a 2 week training period with us, Edward and Lauren travelled to Moulton College, where they were up against some very very classy horses. Saying that, Lauren and Edward were placed second in both of their classes. I really love that the partnership looks so harmonious and they provide the correct outline with a happy work ethic, which the judges see and appreciate. Although Edwrad doesnt have the biggest movement in the world, he is correct and accurate, which always scores well. I am really happy for this pair- come on Regional Qualification.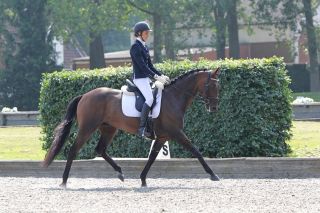 May 2013
Gastric Ulcers; Quadrilles Side to the Story
During our trip to Germany Quad showed some 'out of form' character whilst being ridden. Monica nick named him 'pocket rocket' for the week and he fully lived up to it. He would crunch and bounce and refuse to go forward or bend, especially when the left leg was applied. I put this down to Quad being overly excited about being away from home. When I got him back home he still continued to show the same behaviour, so I called my vets to make sure there was nothing cllinically wrong with him, which as we found out there was not. My vet mentioned that there was a clinic coming up about Gastric Ulcers and asked if we would be willing to use Quad as a guinea pig as he was showing typical signs of gastric ulcers. The day was sponsored by Gastro Guard. It was a very interesting day, where I learnt a lot, and yes, Quad does have gastric ulcers, which were triggered by our German jaunt. Now he is on medication he is back to his usual happy self and keeping all four legs on the floor! (I would have taken pictures, but I was too focused on the pictures of Quads stomach)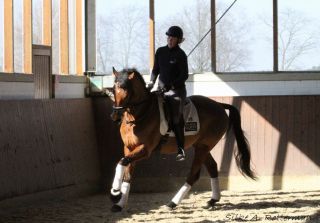 A Little bit of a Different Sunday
Two of my pupils from Padbury took part in Aston ODE; Emily on Cara and Helen on JD. I went to Aston to help them both warm up. Emily rode a briliant test and very forward and clear showlumping phase. Unfortunately, no matter how well Emily rode Cara was a little on the tired side when she came to the XC phase and by fence 10 she had run out of puff. Helen and JD put in a stella dressage performance, which left them with a dressage of 33. They had a pole in the showjumping and were clear XC which left them in 13th place. Not bad for a horse who is 19 and hasnt competed for three years. Well done guys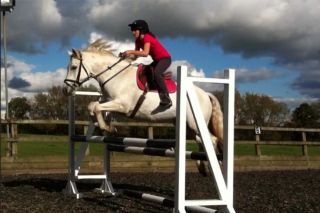 Addington Unaffilliated: A Day for the Ponies
I have just had an amazing, yet weird day of competing. I have not ridden anything over 15.1hh today and considering I am 5ft 10' its a pretty interesting picture! In the morning it was attack of the Connies, where we had Cara and her Irish Connie counterpart Dusty competing in the prelims. Both Cara and Dusty scored over 61%, which considering it was Dustys first dressage show I am really proud of them both. Harry was up in teh Ele in the afternoon. Having been off all winter it was nice for him to get back into the competing side of life. He was exceptionally behaved and apart from a few 'rusty' moments he scored very well. Next step forHarry; affilliated.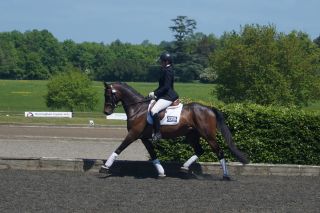 Introducing Edward and Lauren
I have been teaching Lauren and her ex racer Edward for about 6 weeks now. Lauren and Edward have a very successful dressage record to date and are now bidding for medium summer regional qualification. The past few weeks they have been to Vale View and Witham Villa, where they have been placed either second or third in their classes. This pair is ever improving and I am really enjoying working with them- even with Edwards TB moments!!!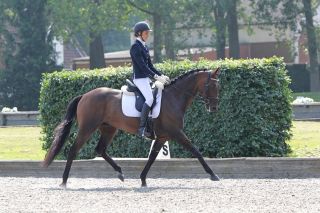 Newbie does it Again
After the success of the other week I decided to take Newbie and Quad to Addington Affilliated. Newbie did not let me down and was placed fifth in a strong prelim class. This mare just seems to get better and better! Unfortunately it was not Quads day. He didnt feel quite straight, I think he has been jumping and rolling around too much and was unsteady in the contact which is not like him. Another day, another time!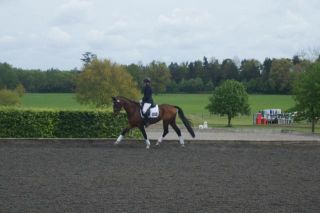 New Girl Newbie Shows Just How it Should be Done
Only 2 weeks back into work after having had the winter off to grow and develop, Ms Newbie showed just how much of an amazing talent she really is. We took her to a dressage competition at Addington to compete in 2 prelim classes. She was second and thrid in her classes with a whopping 68%! I was so impressed by how relaxed this mare was and how she just took everything in her stride. A definate and exciting one for the future!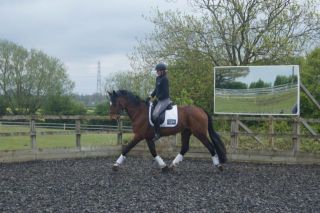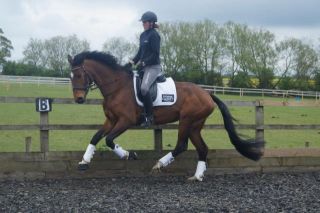 New Faces to Team TB
We welcome new horses; Newbie and Casper to our stables. Newbie is a 5 year old Irish sports horse, with expressive paces and a loevly trainable attitude. Casper is a 4 year old Belgian Warmblood. Pictures will follow shortly
New Homes
I am delighted to announce that Vera and Bosco have found new homes. I am even more thrilled to announce that both horses are staying within the grasp of Team TB as both new owners are going to have lessons with Louise to keep on with their training. I really look forward to working with these new partnerships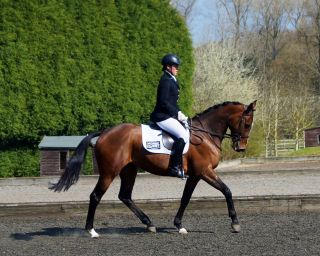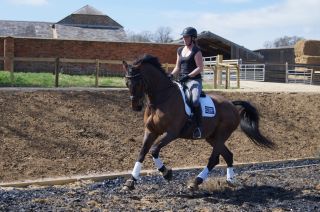 A Very Good Day At Addington
This is what I would class as a 'good day at the office.' Vera was 5th in her prelim class, which considering it was her second ever dressage test and her first affilliated comp, I am very proud of her. She takes everything in her stride and is just so relaxed and chilled when you take her to competitions. Quad was up next in the Novice classes and he was my star of the day. Huge classes (30 in each) saw Quad placing 6th in one and 9th in the other. I am super proud of him as he finally managed to concentrate and actually show what he is truely capable of. he now has his Novice RoR finals qualification and a bit closer to Summer Regional Qualification. Rosie won her medium class and was third in her first ever Advanced Medium. She now has a few days off ahead of her after a very busy past few days!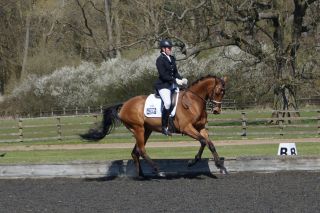 April 2013
A trip Up North
Rosie and Zoi travelled to Vale View. Rosie was fourth in both of her medium classes and Zoi performed well in her Elementray classes. Rosie goes again tomorrow at Addington in the Medium Qualifier and her first Advanced Medium.......
Rosie Carries on with Good Form at Addington
We took Rosie and new boy Bosco to Addington to compete in the Novice and Medium class. Bosco is a big chap that has joined the team on sales livery and needs time to develop. However, his heart is in the right place and he has a lovely trainable attitude, with super cadence and swing in the trot and a very good canter. I am excited about this chaps future. Rosie went in the afternoon and carried on with her Regional Qualification campaign. She was second in her medium class. As with Freddie from the Sunday, the marks were a little harsh in places, but I was amazed as just how much this mare gave me. Next step; Premier League at Keysoe....
Unaffilliated Championships
Freddie travelled to Addington to compete in the Novice section at the Unaffilliated Championships. Having only been with us for a few weeks, and the fact that I have just returned from Germany, it was testiment to this chaps personality that he went so well. The marks were a little on the hard side, I felt, but thats how it goes!. Well done Freddie!
Hop Across the Channel
We have some very exciting news to follow in the up and coming weeks, which involved us travelling to Monicas stable in Germany. Quadrille and Rosie accompanied me on thsi trip. For Quad it was a lot to take in, he was like a school boy on his first ever trip. I think he will sleep well over the next few days once we are home. It was nice for me to take Quadrille to show to Monica as she had Glum in her stable for 10 months and now to see the next generation of Team TB was great. She was very complimentary on Quad and his way of going. Hopefully we can return in the summer. Check out our Facebook page for more images.
March 2013
Team TB in the Media
Here at Team TB we have been honoured with a lovely article written about the stable and our foundation horse Mister Glum. It really highlights just how much of a horse of a life time Glummy is!
http://offtrackthoroughbreds.com/
A Very productive Weekend
We took four horses to Addington Unaffilliated; Freddie, Zoi, Rosie and Ella. For Kasca and Claire it was their first Elementary having only been a partnership for four weeks. I am so proud of Claire and what she has achieved in such a short amount of time, especially considering that only five months ago Claire said that one day she would love to ride in a Novice class. Freddie was very very good/ We only had ten minutes for warm up-plus I was helping Claire warm up on the walkie talkie. Freddie was fourth in a very strong class of 30. Well done Freddie!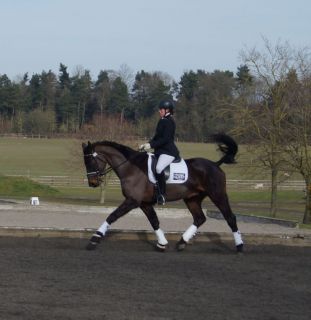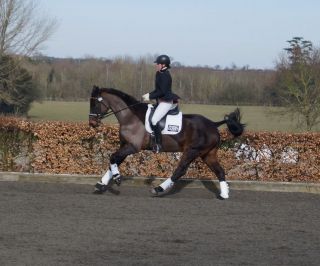 So Ecstatic Shows Impressive Form
I am happy to report that So Ecstatic has won his Elementary classes over the last few days. Gemma reports that Rikki is improving every day and she really enjoys riding/competing him. I am so thrilled that this combination found each other!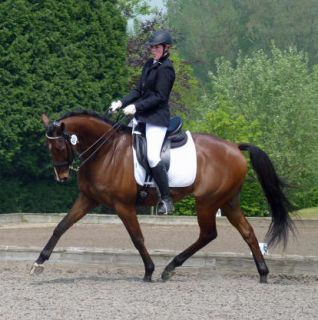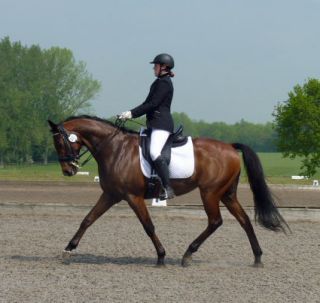 February 2013
Treasure Weeks like These
On Tuesday we travelled to Widmer to compete in the Novice class with Quadrille. After a somewhat ridiculous start to the day (4.30am!) I was thrilled when Quad won the Novice 35 Open class. He was a little bit on the fresh side when warming up (we gained a 9 for our artistic impression from the secretary and on lookers! Sorry to the other two who were having to warm up with us, Quad was a little cold....) but managed to pull it together for his test. It was the most concentrated he has been whilst out competing.
On Thursday I took Rosie to Addington to compete in the Medium classes. I am thrilled to say (and am still buzzing!) that Rosie won both the Medium classes (both Open and overall) and has qualified for the Hickstead Masters Semi Finals. Something has clicked in our last weeks training, lets hope we can keep it up!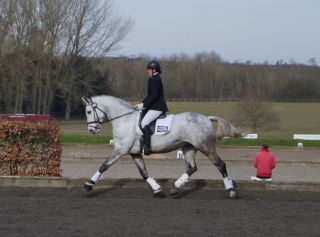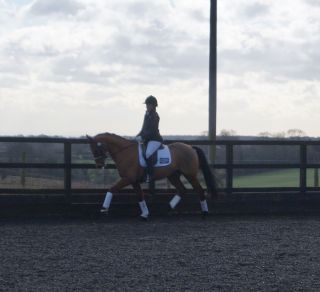 Solihull
We took Rosie to Solihull to compete in the Medium classes and Quadrille for training. Rosie was third in her second test, which I was very happy with. Our first test we still managed to get 57% even though most of our trot work was mixed with canter due to tension and in attentiveness. I am very excited about the future with this mare.
I love Quads excitment and enjoyment to his work; however, he needs to find a balance where he listens and shows himself off to the best of his ability and not let his excitment get the better of him. This of course, is part of our relationship growing and working together. I am hopeful that with the time and patience I am giving Quad our future will be long and successful.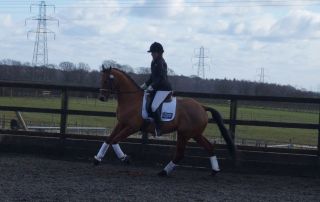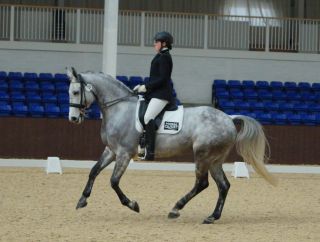 New and Old Combined
We welcome Vera to our stable in the up and coming weeks. Vera will be joining our stables on sales livery.Vera left racing at two years ago as a five year old. Now seven it looks like Vera will be destined for teh show ring as she is a beautiful moving and sweet natured mare. We also welcome back Mister Chips to our barn. I have known Chips since he first left racing ten years ago, now due to a change in circumstances Chips is up for sale. He has come back to us for some schooling and we hope to find him a ever loving home!
Quadrille Finds A New Gear
We travelled to Widmer with Quadrille and Celestro. On a cold and windy day the thoroughbred in Quad definately came out to play! In training we have been working on Quad becoming more elastic and gaining more cadence within his paces, especially the trot which he struggles with. Quad has been developing and growing and becoming much stronger and it showed in parts of his test; however, in other parts his power overtook his balance and attention and resulted in inconsistency for which we were penalised quite heavily. Even with these mishaps he was still placed fifth, which I was very very heppy with!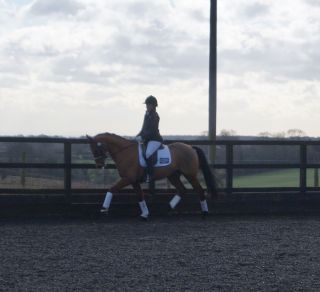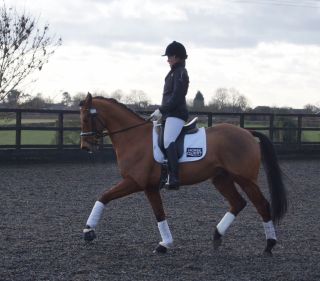 New Pupils
The new year has bought us some new pupils as well as carrying on with the ones we have gained through 2012. We welcome Leah and Lula, Katie and Rosie, Jan and Zidane and Nicky and Walle. I really look forward to working with these riders on achieveing their own personal goals with their various charges.
January 2013
High Profile Snowed off; Bury Farm Here We Come!
We travelled to Bury Farm today with Rosie to make up for the cancellation of the High Profile Show at Addington due to the snow. Our first test was full of rider mishaps, but with a firm talking to myself we pulled out a good test to come second in the other medium class!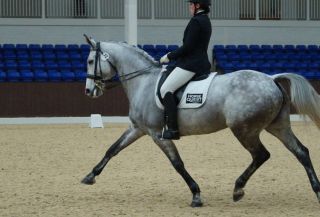 Addington
Quadrille and Celestro travelled to Addington on Thursday. with high winds and lack of work due to the snow both boys were a little un settled. Quad is normally quite good to the contact but today was fussy and was losing his balance in places where he is normally quie strong, just having one of those days!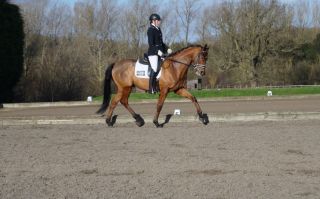 HAPPY NEW YEAR to everyone! 2012 has seen a good and positive year for TB dressage. Our main highlight being none other than participating in Her Majesty's Diamond Jubilee Pageant, with both Quadrille and Mister Glum. We were very honoured to be asked to partake in this truly memorable occasion. Other highlights include Mister Glum's first PSG, his placings at Premier League shows, semi Finals (second year running) for Hickstead Masters for both So Ecstatic and Mister Glum at their respective levels, participating in YH classes with Quadrille, parading at Ascot Race course with Quadrille, and his wins and placings at prelim and Novice level after such a short time in training. We have also seen a growth to the number of people now in training with Louise. This year has seen new homes for Jack, Add Lib, HD and So Ecstatic and the retirement of Mister Glum. Our lows have been Lou's fractured skull in September and the loss of Tusse in July. We very much look forward to 2013 with more training, teaching, clinics and competing. 2012 also saw the addition of our supporter Horsequest and we look forward with the continuing support from them for 2013. A very happy new year to you all
December 2012
Hard Work, Dedication and Training does Pay Off
Zoi arrived in our stable at the end of October 2012. Zoi is a KWPN mare by Rousseau, who has tremendous talent and ability; however, channeling that ability and talent, has been a learning curve, Zoi is a delicate and nervous mare that has required, and still requires, time to learn, understand and develop. Our first test a few weeks ago saw much sideways movement and flying changes. We were; however, competing in a Novice class. After this 'experience' we spent time at home building Zoi's confidence and trust in me as a rider. Three weeks later Zoi went to Addington and was placed 4th in a Novice class. I am so thrilled at her and am really looking forward to the 2013 season with her. She is one of the big exciting prospects we have in our stable. Keep checking here for updates.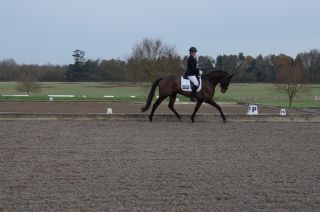 November 2012
New horse Power
With the retirement of Mister G and sales of So Ecstatic and a few other members of Team TB, I have been looking for some new horse power to join our stables. I am glad to welcome Zoi and Rosie, who are a joint venture with Kontakt Dressage. Zoi is a 16.1hh Dutch mare and Rosie is a 10 year old German Warmblood. Rosie is currently competing at Elementary level and is and Advanced level horse. Zoi is currently competing at Novice level with so much scope and potential to produce thorough the levels. I look forward to working with these mares and seeing them progress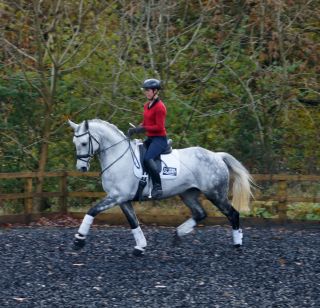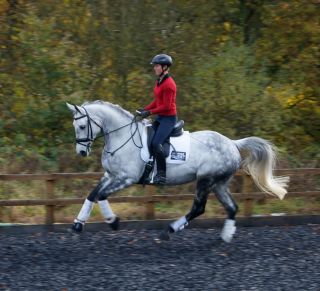 RoR finals!!!!!
Unfortunately my exhaust decided to part ways with my lorry 2 days before the finals, so me and Quadrille could not attend. However, on a brighter note Gemma and So Ecstatic were placed 4th in the Elementary, with a few mistakes along the way. I am so proud of this new pairing and Gemma loves him ever so much and thinks he is wonderful-which he is! Well done guys!!!!
October 2012
So Ecstatic Keeps on Improving
I am so beyond proud of this new partnership that is blossoming between So Ecstatic and Gemma Cheney. I received news from Gemma the other day that So Ecstatic had been out at Elementary and Medium level and had won both of his classes with very good scores. I am so thrilled for this pair and am very much looking forward to seeing them at Vale View High Profile show in the RoR finals. Good luck guys!
The Value in Training
Quadrille is a young TB and tries very hard to please his rider at all times; however, he has the attention span of a knat! From experience of last year with So Ecstatic and the 'spooky' nature of Vale View's Indoor arena, I decided to take Quadrille up to Vale View and run him in a competition 2 weeks before the RoR finals, to give him the best chance. I arrived with little expectations of him and was just going to allow him to 'cruise' round, see the arena and try and ride him a little more in the test, in preparation for the finals. Unknown to me, Quad is now beginning to be able to concentrate for more than four minutes at a time and I think with the progression up to Novice level, he now finds the work at prelim level much more comfortable, so he can relax more. Quadrille won the prelim and was tired and a little distracted in the Novice ( moving hedges and horses walking past was just too much!) but still received good and positive marks. I am now fully focused for the RoR finals in 2 weeks time.
Onwards and Upwards
After Widmer, I decided to run Quadrille at Moreton Morrell and see if he could handle the pressure if two Novice classes. Scoring above 61% in both of his tests, I was very proud of him. We had lots of mistakes (attention derived as usual!) but he coped with the added pressure and quicker timing of movements. Well done Quaddie!
RoR Qualification for Quadrille!
Quad travelled to Widmer with his Kontakt dressage stable mate, Celestro. I have been competing Quad in Young horse classes through the year and been establishing the basics with him.
There is no rush with Quad as he is with me for forever. Having only been out of racing 18 months it is important with me to establish the basics with him in a happy and relaxed way. It is a difficult balance with him as he has a small attention span when he goes out to compete, so I want him to go out and compete to see the world, but only at levels which he is happy and confident with and can give me his utmost attention. So, we travelled to Widmer Equestrian with Quad's Kontakt Dressage Stable mate, Celestro. I was beyond super proud of Quad as he was placed 2nd (lost out on first place to collectives!) and 5th in his prelims. His scores were good enough to qualify him for the RoR finals held at Vale View Equestrian. This little chap keeps on surprising me time after time and I am very much looking forward to the future with him!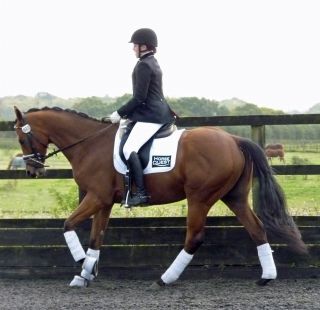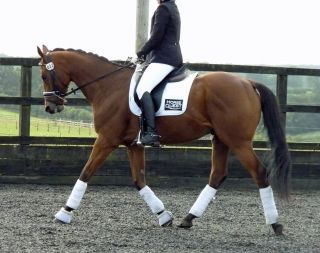 Kasca Competes at Hartpury
Having had a little break from his Para camapagin over the summer, I decided to take Kasca out to start trying to gain his Winter Qualifications. Kasca and I, as a pair, were a little ring rusty, which lead to a reduction in marks, especially in the areas for impulsion and submission. I do adore this little chap as he does try his heart out for whoever is on board, but with several different riders in the past few months his control panel was a little scrambled and he became confused. Back home, carry on with the training and try another day!
September 2012
All Change
Today we said goodbye to So Ecstatic. He and his new partner in crime, Gemma Cheney will be donning the dressage circuit. I look forward to seeing this pair grow and develop and am very much looking forward to seeing them at the RoR Dressage finals at Vale View Equestrian Centre in November! It is almost 2 years to the day since So Ecstatic came to join Team TB. looking back I am so proud of what this chap has achieved in a very small amount of time. He leaves us as a Medium/Advanced Medium dressage horse which so much scope to progress. I am very happy, but at the same time very sad. In the space of 2 weeks both of my advanced level horses have moved on; Glum to retirement and So Ecstatic to a new home, but onwards and upwards and here is to the new generation of Team TB. Good luck So Ecstatic and Gemma-keep us updated with piccies!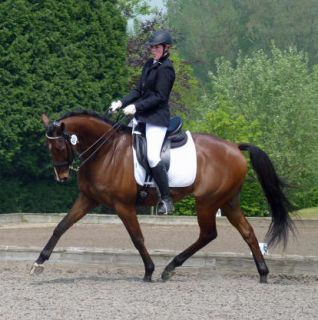 Team TB On the Move
Following an accident which involved me fracturing my skull, it was decided that it would be best for us to move to a quieter stable. The move has allowed for Mister Glum to have a very big field in a woodland area with new found friends. So Ecstatic and Quadrille are enjoying the new stables with lovely views. The rest of Team TB are enjoying a bit of a rest whilst I recover and our new arena is put in. A massive thankyou to everyone who helped us with the move; fencing, moving of rubber mats and numerous trips in the lorry to help move the horses. Keep looking here for new updates!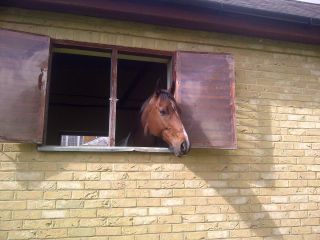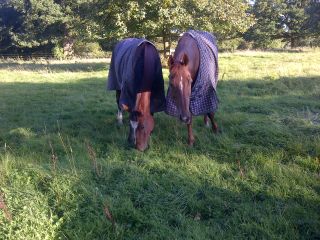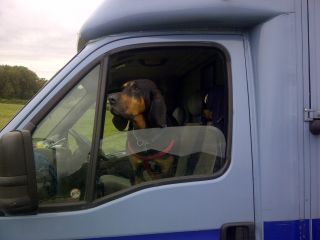 August 2012
A Dedication to my Best Friend
It is with a sad heart that I am announcing Mister Glums retirement. In November 2010 Glum was diagnosed with kissing spine, which we have had medically treated as well as constant massage and accupuncture. I have been very fortunate and lucky to have been given an extra 18 months riding this beyond incredible horse, but unfortunately the other day, whist hacking, Glum injured a ligament in his back. This injury could be treated, but he is 18 years old and has given me so much that I have taken this as a sign and retired my best friend.
Glum is my foundation horse for Thoroughbred Dressage. He has seen me through school, University, taken me to Germany, been at Hickstead Master semi Finals, paraded at Ascot and paraded in the Queens Diamond Jubilee Celebrations! I owe this chap the world, and most of all, a relaxed and wonderful retirement. He will retire to the field over the next coming months and look after the young horses. This horse has taught me flying changes, pirouettes, piaffe and passage. He has paved the way for the other members of Team TB. He owes me nothing, I owe him everything.
Here is to a fat and fluffy Mister G!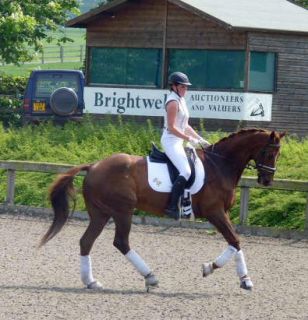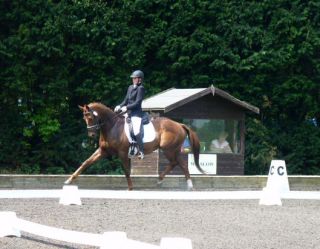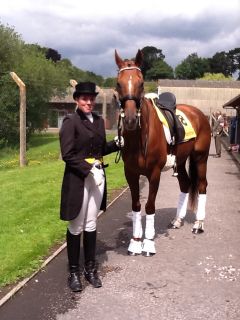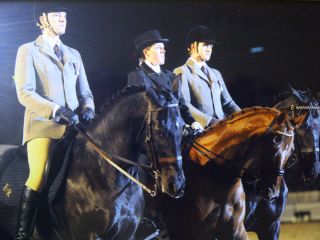 Bishop Burton
We have just returned from a long weekend in yorkshire with Nicole and Kasca, who were taking part in the CDIP 2* Grade IV. They strated the beginning of the weekend a little shaky with Nicole not really riding as boldly as she could have. However, by the end of the weekend they were the most improved pairing climbing a massive 7%! It was so lovely to watch this pair grow, not only through the course of the weekend, but in the rollercoaster of the last 2 months. I am very proud of these two and look forward to Nicole returning at Christmas to start with her campaign trail to the World Championships in Normandy 2014.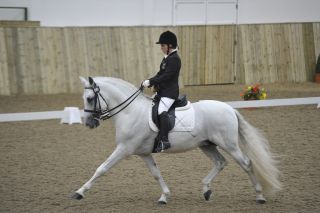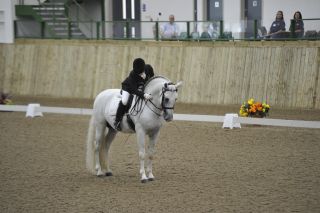 Win, Win, Win
Sadly Whisper became ill just before the departure of the German Dressage Team, so he did not travel to the Olympics. It was a sad moment, but thats what happens with horses. As a direct result, my timetable for two weeks all of a sudden began to look rather free, so I decided to book in some competitions for the Team TB boys. First competition; Moreton Morrell with Mister Glum and Kasca. Glum was, for one, maybe a little too calm and relaxed and was a little off the aids. However, he won both of his Advanced Mediums. Nicole rode Kasca in both of the Medium classes. she was second in the first and won the second test. I am very proud of both Nicole and Kasca, and this was a very good 'warm up' for the up and coming CDIP 3* at Bishop Burton in 2 weeks time.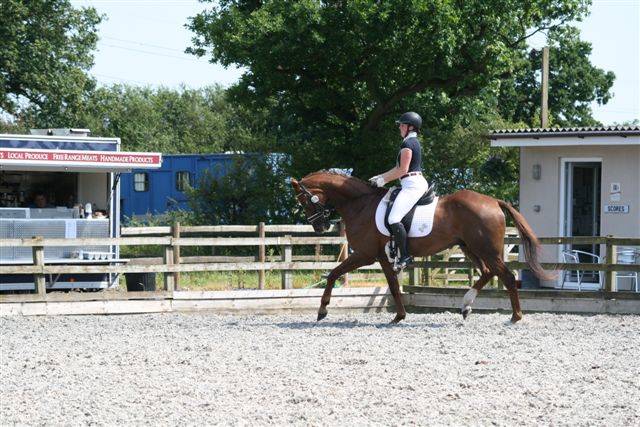 July 2012
Summer Update from HD
I recieved a lovely message from Maxine the other day, along with a new photograph of him. I am so pleased to announce that HD is thriving in his new home and Maxine loves him very much and they are building a lovely partnership. Keep up the good work guys!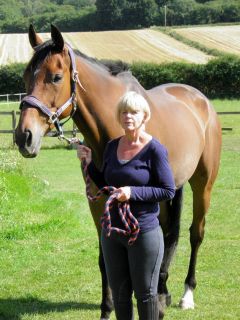 OLYMPICS!!!!!!!!!!!!!!
We are a matter of days away from the Olympics commencing and I am so so so so so excited!!! I am in a very priviledged position of travelling with Monica to the training camp for team Germany as she is travelling reserve. I have my team kit and am all ready to go!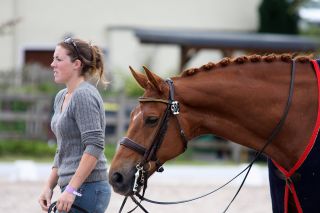 Photo by Silke Rottermann
Quadrille Parades
Quaddo followed in the footsteps of his royal stablemate, Mister Glum, by parading at Ascot Race course for the Retraining of Racehorses. At only five years old, Quaddo showed just how much of a superstar he is! He performed well when he did his 'show' in the parade ring and was exceptionally well behaved when he had to canter down and back past the grandstand. I was so proud of him,a nd to think, that only 2 years ago he was at Royal ascot racing! Well done Quad!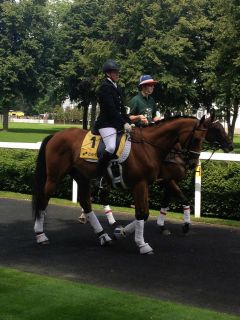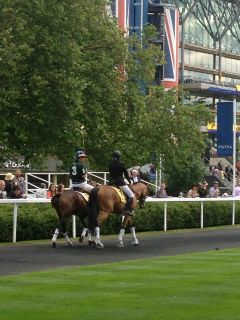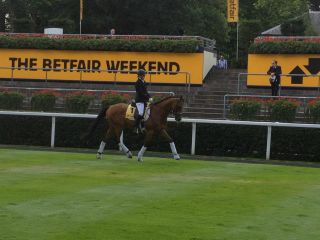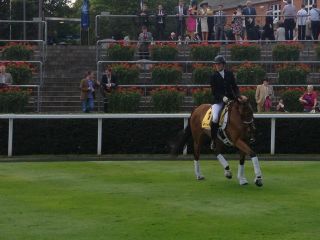 Add Lib Has A New Home
I am so happy to announce that Add Lib aka Tiddles has found her new home. A big congratulations to Danielle and her mum who will enjoy showing Tiddles throughout the years to come! We look forward to hearing about their progress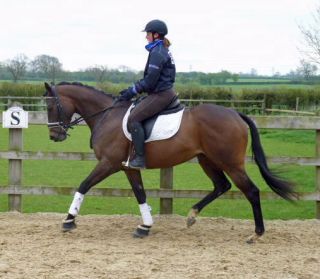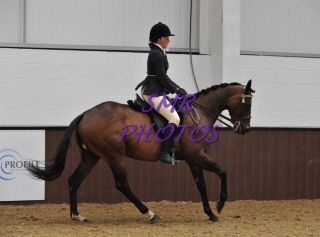 Glum Places at Swallowfield
Glum travelled to Swallowfield to take part in the Advanced Meium 85 and the Advanced 100, Pick Your Own class. Glum was tense and a little distracted by his own reflection in the Advanced Medium; however, he was still placed second. In the Advanced 100 Glum was far more rideable, but some of the engagement was lost. He was still placed a respectable 5th. Next outing for Mister G will be Morton Morrell at the beginning of August.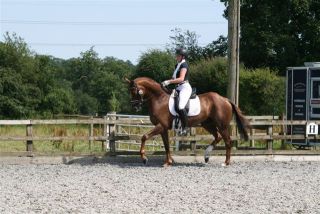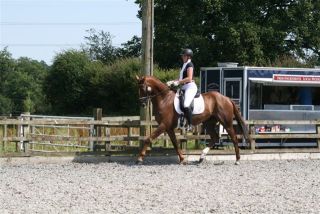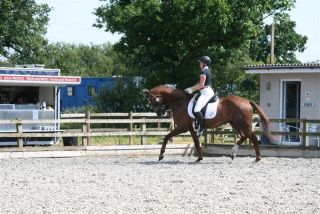 Photos Taken By Heather Stack of Larkshill Stud
A Week Of Very Mixed Emotions
Aachen is one of my favourite shows that we attend throughout the year. With what we thought of the selection for the German Olympic team sewn up, Monica could relax and ride for herself in the Grand Prix and the Grand Prix Kur. On Wednesday Monica rode her small tour horse, Tatoo, in his first ever start at Aachen. This horse has surpassed all expectations as Aachen was only his 6th EVER show. he was placed 4th in the PSG and was ever so grown up in an arena which is full of atmopshere and people throughout the week. In the evening Monica had the ride of a lifetime in the Grand Prix. She won teh Grand Prix with 74.9% beating Isabelle Werth on Don Johnson. There were tears everywhere and I couldn't have been happier for someone who works ever so hard and has a fantastic relationship with this horse. Thursday brought us the news of the withdrawl fo Totials from Team Germany, which put Monica into contention for the individual spot for the Olympics. Friday brought a day of mixed emotions. We, at Team TB, lost Tusse. In Germany, it was decided that Monica had to ride the Special. She was placed second in the Special, just behind Isabelle. On the Saturday I was able to watch some incredible riding in the Grand Prix Special and some rising stars coming through. Saturday night Tattoo was back in action in the Inter I. Again, he was placed 4th, with some very expensive mistakes. On Sunday we were given the news that Monica would travel as a reserve for the Olympics!!!! So 3 weeks from today we will be setting up camp in Windsor. A Fantatsic week, one that we could never have predicted. My wardrobe is now full of Team Germany red clothes.....back to normal life, well for 3 weeks at least!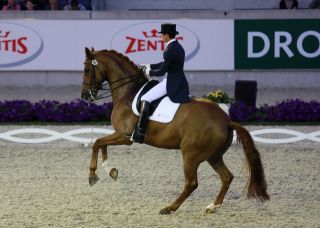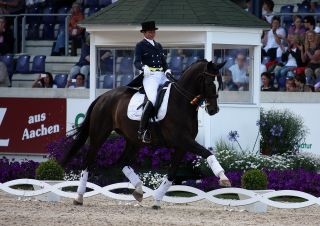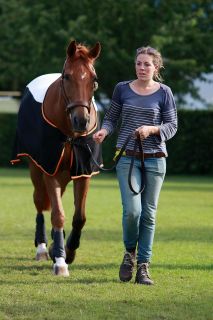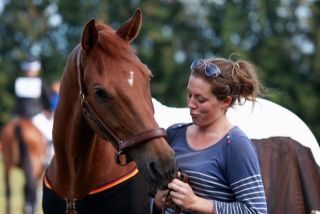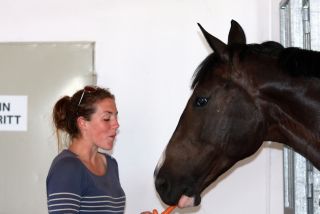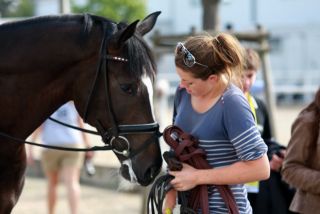 Photos By Silke Rottermann
A Sad Start to the Month
It is with beyond great sadness that I have to report that last week we lost our beloved Tusse. This adorable and willing chap had a bout of colic that could not be helped to provide good quality of life afterwards. We will miss this chap ever so dearly.
RIP Tusse xxxxx
Nicole and Tusse Compete at Hartpurt CDPI 3*
Nicole and Tusse travelled to Hartpury CDIP 3* on Tuesday. I am so thrilled that they performed well and were placed 5th in both of their two tests. On the second day they were only 0.4% behind 4th place. I am so proud of this lovely combination and it has been great to watch the progression of Nicoles riding in such a short amount of time! Well Done GUYS!!!!!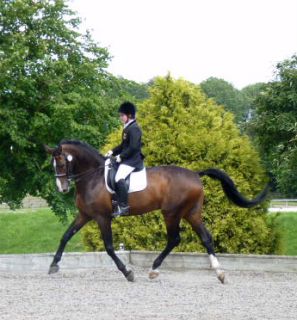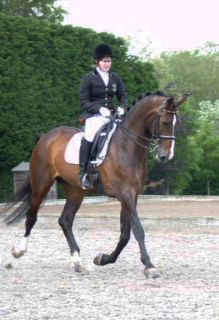 June 2012
Good End to The Month
After a busy few weeks in the run up to Aachen, our last stop for the month was at Addington with new member to the team, Cointreau and Nicole on her replacement horse Tusse. Cointreau was exceptionally beaved and performed very very well considering this chap had been with us for 5 days! Nicole performed very well on Tusse in the Medium class. Having only ridden this horse 5 times they went on to scoring 63% with many mistakes. Lots of 8's in the places they deserved! We wish them the best of luck for next week at Hartpury CDPI 3*. I will be leaving to go to Aachen with Monica, Whisper and Tattoo and team TB will be enjoying a VERY much deserved rest.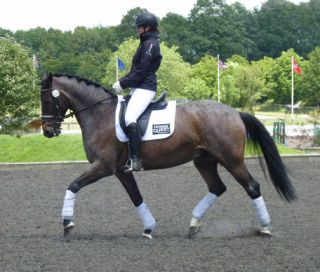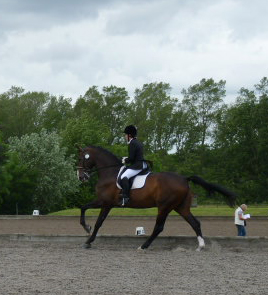 Things get better with Age: Mister G is No Exception
I still cant wipe the grin off my face from Mister G's performance at Solihull the other day. At the grand age of 18 Mister Glum pulled out one of his best performances ever. He was second in the Advanced Medium 96 and third in the Advanced Medium 98. In both test he was piped to the higher placing my Emile Faurie on his horses. I was ever so proud of Mister G. He was fluent and through the body with tension only creeping in a few times. He achieved really good scores from a judge who in the past we have found hard to please. I am so so so proud. Hard work really does pay off!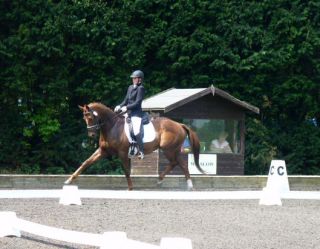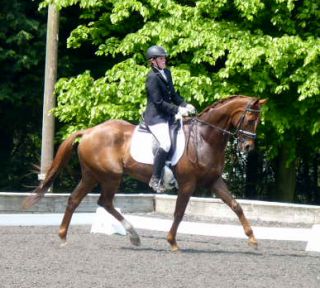 Quad Performs Well at Aston
Quad travelled to Aston last week to compete in the Prelim classes. Quad was a little unsure of the mirrors that are positioned at the back of the long side. Matters were not helped by the horse being lunged behind the mirrors, so every now and again a horse would appear and then diasapper followed by a cracking of a whip. Our warm up was not so calm and relaxed and this showed in the first test as Quad had still not had time to mentally calm down and relax through his movements. However, he is getting better as he now being able to concentrate for long enough to perform all of the required movements and transitions, he was placed third. His second test was much better and a lot more consistent. I managed to calm him back down and make the trot work slower and less hurried. He was rewarded with second place-onwards and upwards Quaddo!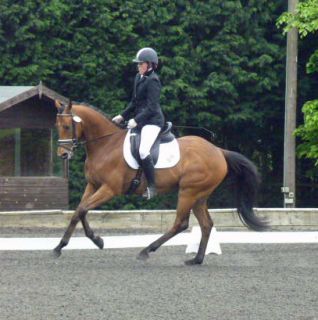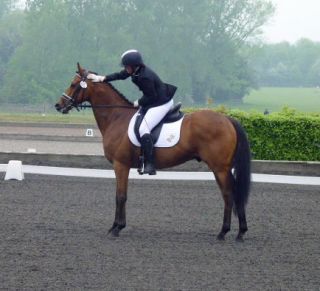 Widmer Farm: New Location Approved by So Ecstatic
This horse finds all of his work very easy. The main problem that I have with So Ecstatic aka Rikki is keeping his brain occupied with work and to challenge him a little. It can become a difficult balance as challenge him too much and he becomes confused, and also he lacks the strength in his muscle and stamina to uphold the new work. Challenge him too little and he begins to entertain himself. We had the latter problem in the Novice Qualifier…..Rikki has already qualified for the RoR Dressage finals (to be held in November) at Elementary level and I decided to try and qualify him at Novice level as well. The first test did not go so well due to Rikki having his mind on other things than listening to me, but Rikki being Rikki was still place third. However, give this horse a challenge and he will ride to it. In the Elementary Qualifier he won the open section! It was the best test he has ever produced for me. He was relaxed, concentrated and forward going, yet not rushed. This little powerhouse has so much to offer and he finds it beyond easy. He still upholds his record of never coming home without a ribbon!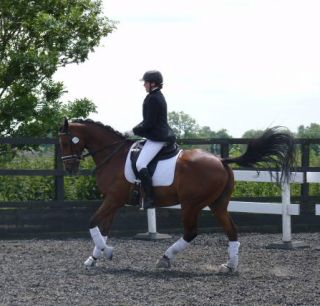 Welcome to Nicole Blanks!
Nicole has come to us from Melbourne, Australia to take part in Hartpury CDI 3* in the Para Dressage Grade VI Class. Nicole is here to help with her qualification for London Olympics 2012. We are very excited as she will be using Kasca for her competition. In her class she will compete in three tests at Medium level, with the third test being a freestyle which can include flying change sequences, pirouettes etc. Of course, we wish her, and Kasca, the very best of luck and will be there to support her every step of the way!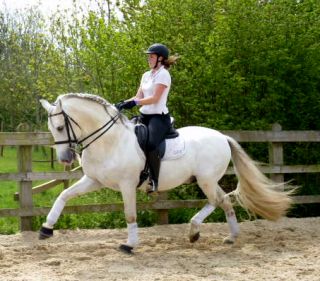 Add Lib Takes Part in SEIB Showing Class
Add Lib aka Rose, took part in her first showing class the other day at Bury Farm EC. Looking back on it, I maybe threw her in at the deep end by competing in a class that was a qualifier for HOYS, but we may as well start as we hope to carry on.(!?!?) Rose was the smallest and the youngest in the class but it did not show and she held her own against some very tough, and well seasoned opposition. She was not phazed by the indoor arena, busy warm ups, or horses passing her and she rode very well for the judge. I am so beyond proud of this little girl and cannot wait for our next outing!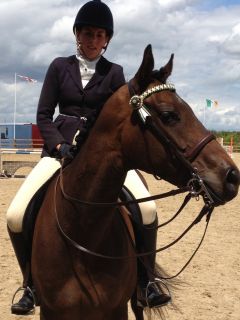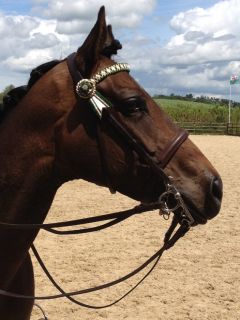 Quadrille to parade at Ascot
I am thrilled to announce that Quadrille has been asked to parade at Ascot Racecourse on 21st July 2012 for the Retraining of Racehorses. Last year I was lucky enough to be asked to do the same parade on Mister Glum, and I am very honoured to be asked to go again with our latest 'Royal' addition to our stable. Quadrille ran at Royal Ascot in June 2010 and was second (by only a nose) so it will be lovely for him to return to the scene of his last race before he retired to become a dancing diva. Hopefully Quaddo will show the same maturity he did at Windsor and do Team TB proud!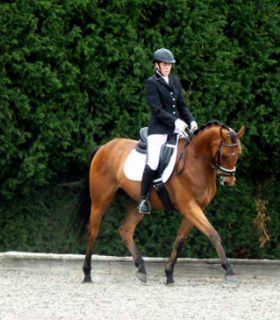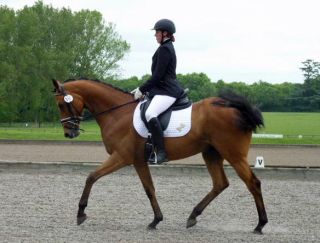 Qudrille: First Premier League Show
I never had any intentions of showing Quad until he was 6, but with recent success shown at Prelim level, I decided to take him to Wellington Premier League and 'have a go' at the 5 Year old classes. There were two separate classes which he was capable of doing; the National Test for 5 Year Olds and the 'Trot Round' class. The National test was on the first day. Heavy downpours of rain lead to water falling continuously off the roof to the indoor. Combining that with a generally unsettled Quad, lead me to the decision to retire him mid test. I decided to do this as he was not happy and he does not need to be pushed, or made to feel pressurised in an arena environment. I want my horses to be happy athletes and to be relaxed when competing.
The second day allowed for Quad to take his time as he went round as it was not in 'test' situation. The trot round classes give the horse more space and time to find balance, concentration and relaxation, which is exactly what he needed to do after the day before. Quad scored really well; 6.8 in the trot (still so much tension) 7.1 in the walk and a 7.2 in the canter, with a 7.1 for ability to extend, balance and star appeal. ( Very good scores considering he was still a little tense from the day before and his concentration span still has the tendency to be like a goldfish!) What Quad has achieved in such a small time is incredible and it is only his willing character that has allowed him to progress so quickly. He was scoring the same, if not better than some of the horses that were bred for the job and he certainly did not look out of place! Well done Quaddo!
Quad will now be campaigned lightly throughout the summer, working towards his RoR qualification for the finals in November at Prelim and Novice level.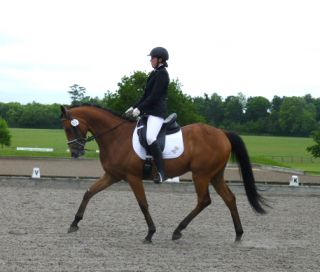 Busy Summer Time
Quad and Tusse travelled back to Addington today. Quaddo was placed a respectable 5th in his prelim class. Quaddo is learning how to concentrate on the job in hand and not stare at the horses around him whilst in his test-particularly in the walk when he feels like he has missed out on something by having to keep his head down for the whole 2 minutes of trot work he is required to do. All I can do is laugh at him. However, in all honesty, I cannot believe just how grown up this chap is and how nothing phases him at all and every time you ask a question of him he tries his hardest to please you.
Tusse was late in the afternoon and was 4th in the Advanced class. Competing this horse is a huge honour, and I fear for the day when he is sold.......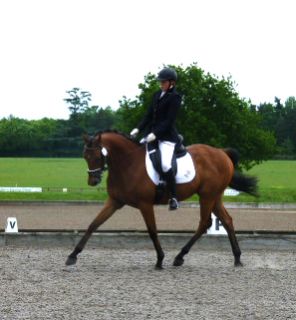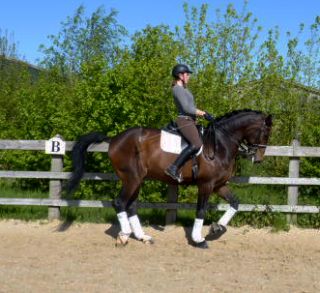 May 2012
Balve: German Championships
May is turning out to be a very busy month for me; however, the schedule is working well for the horses. With the busy last few weeks for the boys at TB dressage it has been good for them to have a break while I travel to Germany. The German Chamiponships saw Monica placed in the top 8 in all Big Tour classes on Whisper, ( Grand Prix, placed 8th, Grand Prix Special, placed 6th and Grand Prix Kur placed 6th) placed 4th in both the Louis D'Or Qualifiers on Tonik and 6th in the Nurnberger Pokal Qualifier class on Tattoo. It was a week of amazing horses and riding. Now I am back home and the TB boys carry on with their Summer Campaign. Mister Glum and So Ecstatic will travel for their Hickstead Masters Semi Final, Quadrille and Add Lib are aiming for their RoR Dressage Series Qualifiers and Tusse and Kasca for Regional Qualification. Watch this space!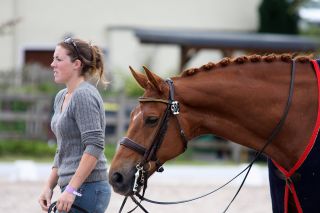 Photos taken by Silke Rottermann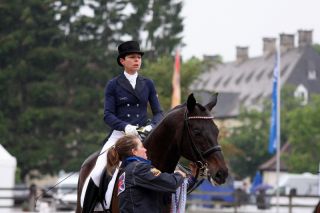 A Good Day At Addington
After the dizzy heights of last week, I decided to take the boys out for a small trip down the road to try and remind them that they are actually dressage horses and not parade horses who either gallop or walk everywhere.
Quadrille was first to go in his prelim class. This little chap could not have done me prouder! Wearing his new EIIR saddle pad, he did not let his owner down. Quadrille was 4th in his class and true to normal 'ex racehorse form' he was not phased by the white boards, flowers or music, what a dressage pro!
So Ecstatic took part in one of the Elementary classes. My wrong turns (two of them!) cost us dearly and cost us a placing. Next up was Mister Glum in the Advanced 98 and Advanced 100. In the Advanced 100 we were placed 5th, and I was very happy with him as it was a strong class. In the Advanced Medium, tension lead to a reduction in the marks. However, Glum is now beginning to reach that expressive yet calm way of going, he just has to sustain it throughout the trot work as the canter work is now fairly solid.
Last to go was a new addition to the stable; Tusse. Tusse has come to Thoroughbred Dressage to be sold. He comes from a very prestigious stable in Germany and we are very lucky to have him. He was placed 4th in the Advanced class. Overall, a very good and productive day!
On a side note: It must be mentioned that both Mister Glum and So Ecstatic have qualified for the Hickstead Masters Semi Finals at their respective levels for the second year running.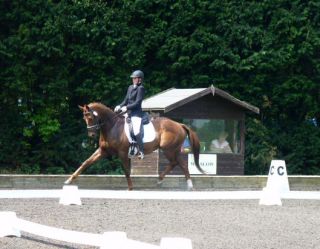 Mister Glum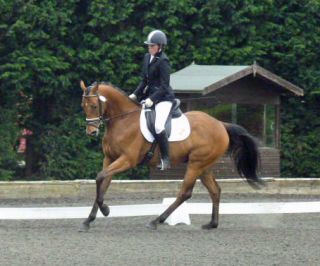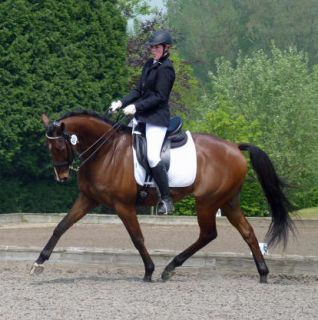 Quadrille So Ecstatic
Windsor Windsor Windsor Windsor!!!!!
WOW!!!! What a surreal week! Glum, Quadrille and I have just returned from what can only be described as a week that we will NEVER forget. Both boys have just been part of "All the Queens Horses" Diamond Jubilee celebrations. We have a had a week of luxury staying in the Royal Windsor Mews. HM The Queen came to visit the boys on one of the mornings during our stay and then we performed in front of her on the final evening. We are so lucky to have been part of something so special. Massive thanks have to go to the staff at the Mews for making us feel so welcome and helping us with any problems. We met some wonderful people from all over the world, including the Canadian Mounties, the Omanians, Indians and the Italiens. I have posted a few pictures here, but the best place to see them all is on our facebook page. Click here to find them! The parade will be on ITV on June 3rd as part of the Queens Diamond Jubilee Weekend.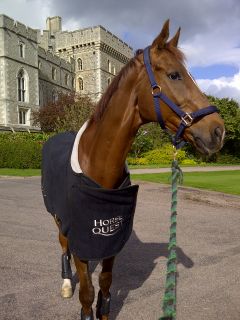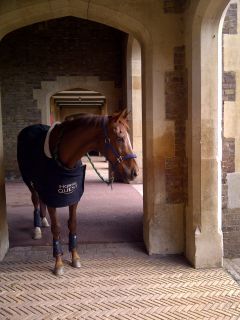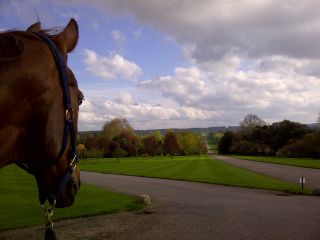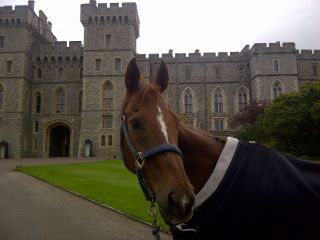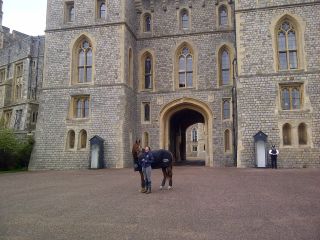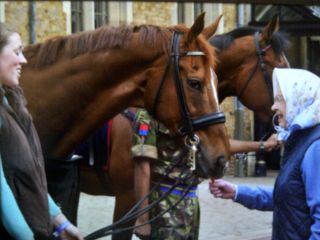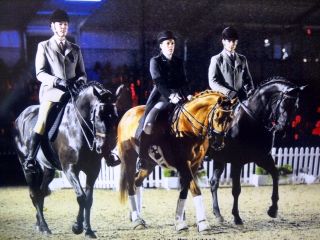 Jack Finds A New Home
I am delighted to announce that Jack has arrived safely and is behaving in his new home. Jack will be residing with Derek Laverty, former National hunt and Flat Jockey. Jack will spend his days being Derek's Hunting horse and he hopes to do some point to point as well as maybe some eventing!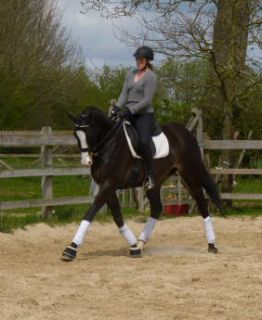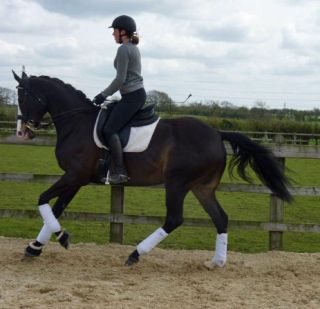 Thoroughbred Dressage Meets Horsequest
I am beyond thrilled to announce that Thoroughred Dressage will be supported by Horsequest.co.uk. This is such an honour! I do all of my advertising with horsequest and recieve massive responses for them all. For more information check out ww.horsequest.co.uk

April 2012
Glum Takes on the Warmbloods at Keysoe Premier League
I cannot wipe the smile off my face for what Glum has just achieved at Keysoe Premier League. He was 5th in the Advanced class and then was 14th in the Advanced Medium and achieved his regional qualification at Advanced Medium level, with a very credible score. (especially at a Premier League!) I cannot believe how much he has developed and how confident he is now in the arena. Several people commented on his lovely expressive trot and how amazing it was that he is not only a thoroughbred, but an ex racehorse!
Well done Mister G!!!!!!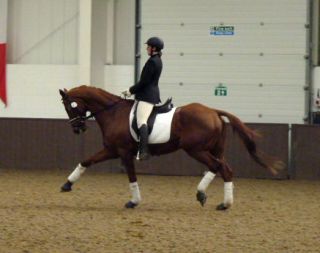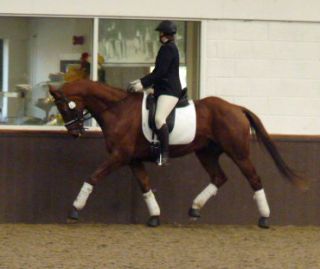 Quadrille to Join Mister Glum at Windsor
I am very happy to announce that Quadrille has been asked to join Mister Glum in 'All the Queens Horses' parade, as part of the Queens Diamond Jubilee Celebrations. This is a huge honour and I am very proud of both my 'royal' boys!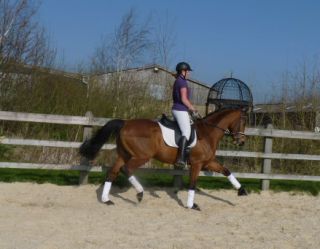 Sheepgate Proves Successful
Mister Glum and So Ecstatic travelled to Sheepgate to try and gain qualification for the Hickstead Masters Semi Finals at their respective levels. Both boys sucessfully managed their qualifications, which is a great result. Mister Glum won at Advanced Medium and Advanced level. So Ecstatic not only secured his qualification for the Hickstead Masters Semi Finals, but also his RoR qualification for their finals held in November. So Ecstatic will now be kept at home and produced further until he is ready to come out at Medium level.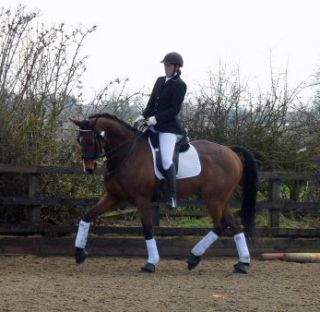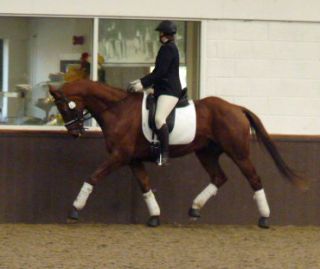 Introducing Our Latest Members
With the beautiful weather over the past few days I have taken the opportunity to do a 'photoshoot' of our newest members to Team Tb. I was so impressed by just how smart they looked and how much these two horses have learnt in such a short time. Quad seems to have found a new gear (which to him is still 'just trotting') and has a VERY level head, I am becoming tempted to trot him round the Shearwater 5 year old classes....we will see..........Please click on their respective pages to see more pictures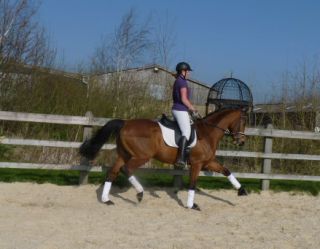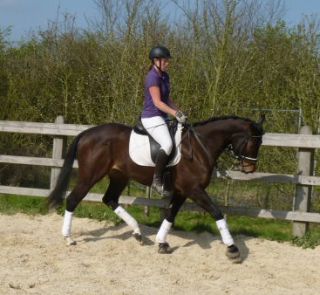 March 2012
Glum Likes only the Colour Red
Glum travelled to Solihull this morning to contest the Advanced Medium and Advanced 100. He won the Advanced Medium (although I should try reading the correct test number and learn the right test for higher percentages!) and was 3rd in the Advanced 100. Silly, silly mistakes from myself saw us miss that PSG qualification mark by 0.2% (ARGH!) However, I was still very happy with Mister G's efforts today.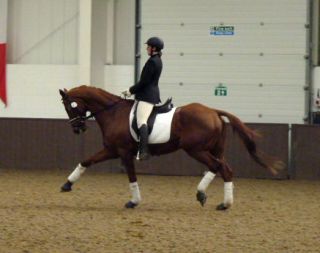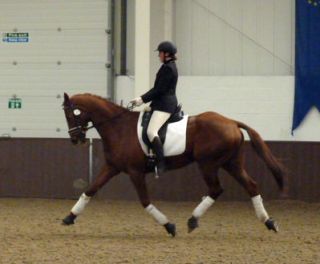 So Ecstatic Starts to Season Well
A trip to Weston Lawns saw Rikki take one of the Elementary tests. His first test showed a new grown up Rikki, who is really coming into himself. His second test....well.....lets just say that I hope BD will never publish that score! With so much more demand on Rikki to produce the 'bigger' paces, I forget how easily he tires, which he decided to remind me right in the middle of Elementary 53. Considering this cheeky little chap hasnt been out since November, I am very proud of him and from looking at the photos, cannot believe just how much he has grown up over the winter.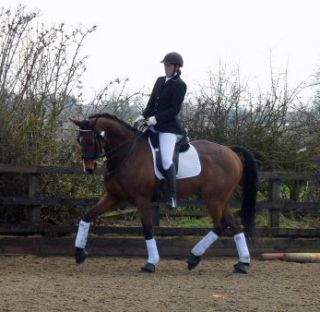 A Successful Day at Addington Manor
Today saw Jack perform his first ever dressage test. A proud moment for both myself, and his owner Caroline Teltsch. This chap has only been in training for such a short time and is growing both in height and width. Jack, the ever cool Tb, showed me just how grown up he can be by competing in the Indoor arena and pulling a very credible 5th place. Onwards and upwards! Mister Glum, now 18, decided to show me how silly I am about thinking of retiring him, by pulling out a win in the Advanced Medium. I was so so proud as all of our winter training has paid off and Glum is feeling a lot more confident when in the arena.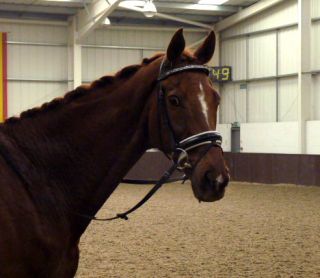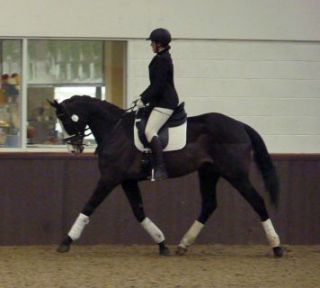 New Owner and New Horse to Join Team TB
I am very excited to announce that as of tomorrow we will be having a girl join the team of Tb boys! Ad Lib is 4 years old and has been out of racing for a year now. This ever so pretty mare will be produced for showing and dressage, aiming for Search for a Star qualifiers as well as the RoR dressage series final at prelim and maybe novice level.
Busy Busy Busy Busy
Welcome to spring! We have survived the winter and can now look forward to the longer evenings ahead. I have just returned from Dortmond CDI, where Monica and Whisper were 8th in the Kur and produced and amazing Grand Prix Special with a score of 75.9% to take 5th place. This pair are constantly improving and I am so proud of them everytime I go over and see them. Back home; Quadrille has settled in very well, (pictures to follow soon!) Rikki went for the first time in a double bridle today and looked ever so grown up. Mister Glum and Jack are due to compete at Addington on Thursday and Kasca is to compete at Keysoe on Wednesday. Keep checking here for updates.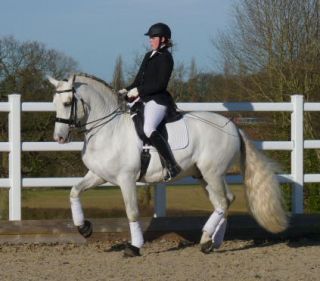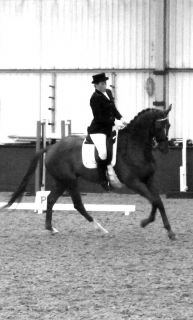 February 2012
Another Member of Royalty is to Join Team TB
I have been sitting on this news for a few weeks now, hoping that it would happen, and it finally has! As of Monday, team TB will be welcoming another 'Royal' horse. Quadrille, owned and bred by HM The Queen has recently left racing and is to come to be produced at Thoroughbred Dressage. This is ever so exciting! Quadrille is only just rising five and will come to the stable hoping to follow in the hooves of his royal stablemate, Glum. (Although these are pretty big hooves to fill!) Watch this space!!!!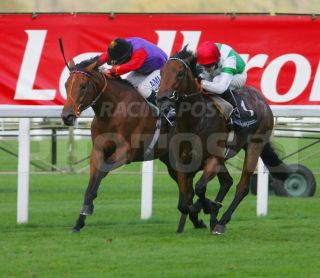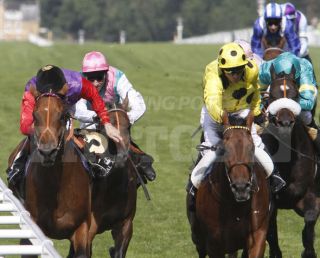 Wins at Solihull
Kasca has come to join our stable for sales livery. This stunning Andulusian Stallion has come to team TB via Monica's stable, from one of her working pupils, who has unfortunately outgrown him. Only a few weeks in the country, and he has won his first two mediums with ease! This adorable chap does everything and is a real schoolmaster. He is here for sale, but will be produced and competed by Louise, with aims of the Premier league shows at PSG level. Next outing: Keysoe at Advanced Level.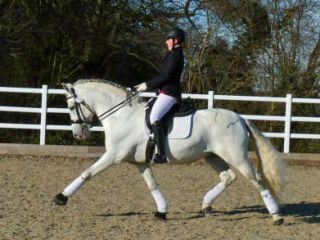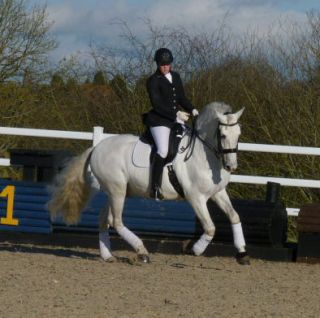 Team TB Welcome a New Member
After only ten days 'sales livery' it has been decided that Jack will stay with Thoroughbred Dressage and be produced. This is fantastic news as Jack has shown us already, within such a short period of time, how trainable and willing he is, and how much 'scope' he has within his paces! One person has already described him as 'a Mister Glum in the younger year's.' How exciting!!!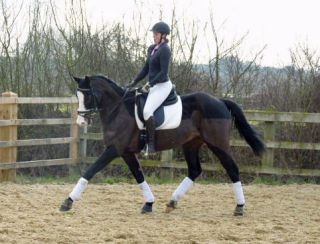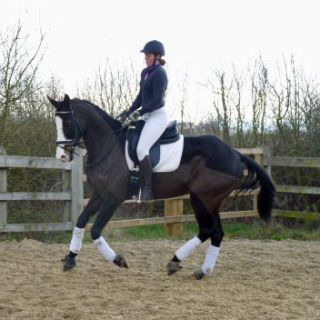 Stuck Out in the Cold
With the freezing temperatures and the snow that has just greeted us, team TB's scheduled shows and training have been put on hold. However, this has not dampened our spirits as you can see in the pictures below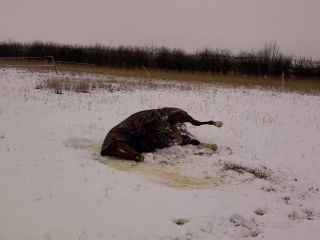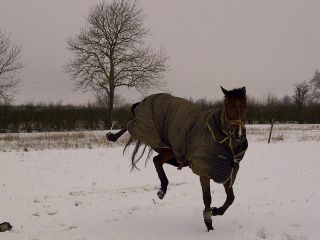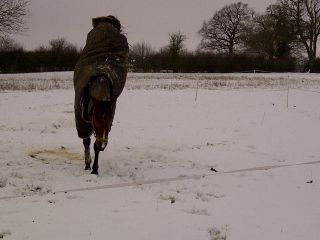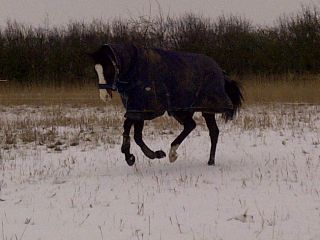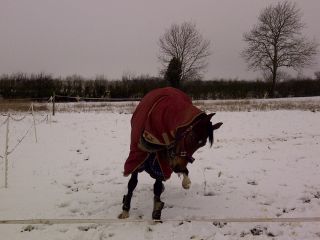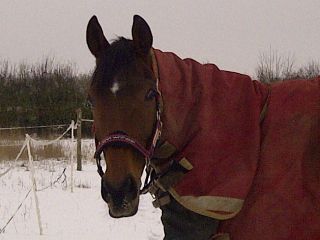 Happy Assention Day
A 'Happy Assention Day' must be given to Glums owner! Sixty years to the day HM The Queen took to the thrown, and to mark this special year there are several 'celebration events' taking place. One of which is 'All the Queens Horses' which Glum and I will be partking in, in May. We are both honoured and excited at this special event.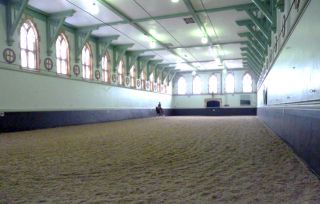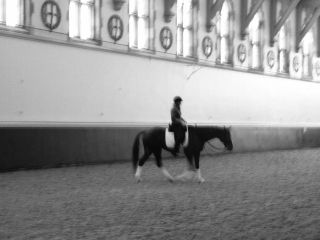 January 2012
A Helping Hand
Along with the beyond amazing work that Annabelle Galt (Equine Physio Therapist) has done on all of my horses, in particular Mister Glum, it was suggested to me by my vets to 'have a go' with accupuncture, to see if it would help Glum with all of his various 'tensions.' I am very very happy to report that it has worked/working in only one session. The dramatic change in the freedom of his shoulder and back is unbelievable, and makes me realise what an amazing horse I have, for him to be trying to work at such a high level, with so much constraint in his muscles. We will keep up both the physio and accupuncture to keep Glum in fighting fit order!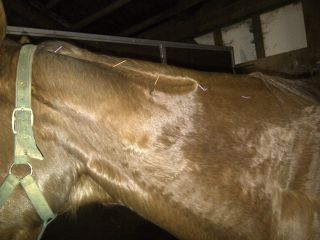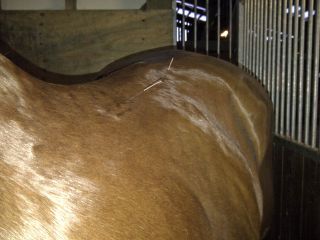 HAPPY NEW YEAR!!!!!
Looking back over the past 12 months it has been a busy year. One of highs, and definately lows, ( my smashed elbow being one of them!) lessons learnt and we start the year with happy horses that are all looking well and looking forward to the season ahead! Glum has a very exciting schedule ahead of him, with parading in 'All the Queens Horses' in May, along with his competition commitments. So Ecstatic and Honourable Dreamer are very well. So Ecstatic looking at competing at medium level in the up and coming months. So Ecstatic and Mister Glum will travel to Germany in February for some final 'tuning' before we hit the competition scene. So much to look forward to, keep checking back here for details and going on's. Happy new year to you all!!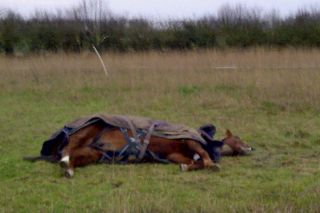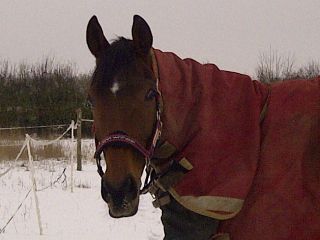 December 2011
Frankfurt gives a Good End to the Year
Monica and Whisper once again did me very proud, and came second in both their classes at Frankfurt CDI. A small 'stop' in the second piaffe saw Monica's score end up on 74% in the Grand Prix, which was a shame, but both of them came back, full guns blazing for a whopping 78% in the Kur, which is a personal best for the combination. BRING ON 2012!!!!!
November 2011
A Royal Visit
I was beyond honoured to be invited for Glum to 'return home' for HM The Queen to see him and see him work. This is an opportunity that I never thought possible. Glum and I had much fun showing off our tricks before meeting HM The Queen. After a lovely hack around the grounds at Windsor I was asked if Glum would partake in 'All the Queens Horses' next May to mark the Queens Diamond Jubilee. Of course, I accepted, so Glum, and I will pack our bags and parade in front of over 60,000 people. I couldnt be prouder!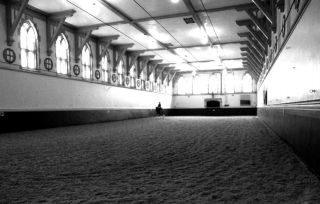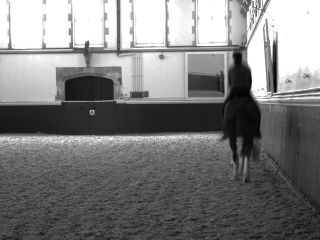 So Ecstatic Shines at Vale View
Both Mister Glum and So Ecstatic travelled to Vale View Eqestrian for the high profile show. Unfortunately Glum did not pick up his dancing shoes as he left the stable door, which combined with a spooky arena lead to tension throughout the test. I was disappointed, but that is horses and that it how it goes sometimes. So Ecstatic was taking part in the RoR Novice and Elementary tests. A silly moment by me meant that I had not just forgotten my wallet but also my spurs. The Novice test I could not get Rikki within 5 metres of A, which looking through his sheet was such a shame. Many thanks to Tom Graham, who saved me by lending me his spurs for the Elementary, which saw a much better, more forward test. Rikki was 5th and I was so proud of him, even though he still had many mistakes.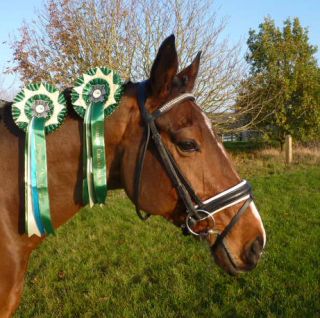 Glum Wins and does his first PSG!
Glum took the Advanced Medium restricted section at Moulton College today. Being a little ring rusty, Glum started his test a little behind the leg and therefore off the contact, but once pushed forward in the medium trot he began to grow in confidence. Many silly mistakes cost us in his usual scoring, but he was rideable and calm, which is a BIG improvement for him! It was a joint/collective decision that I should bite the bullet and put him in for his and my first PSG. The little orange chap did not let me down and due to beyond silly rider errors we still came away with a credible 60%. Glum really enjoyed himself and found the higher degree of difficulty easier than the advanced medium test where I am constantly having to hold him back from putting changes in everywhere! ....now if only his rider could count and turn the right way at the end of the centre line......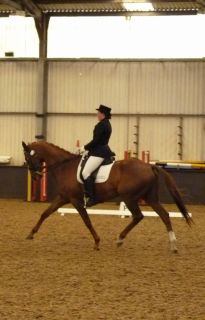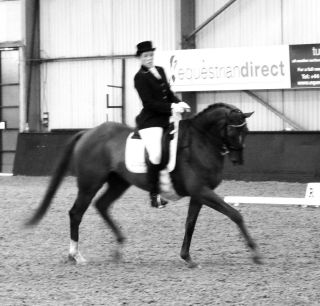 October 2011
Young Professionals Day
I was honoured to be selecetd for the final 18 at the Young Professionals viewing day at Carl Hester's stable. We trained on our own horses in the morning, with an interview as to our business plan and then got to watch, listen and answer questions in the afternoon whilst watching Carls horses train. I thoroughly enjoyed the day and took a lot away from it, which I am now putting into practice with my horses at home. The competition was fierce and unfortunately I did not get through to the final, but I am very proud of myself for getting that far and send my luck to the contestants attending the final!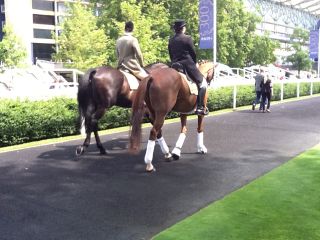 Greetings from Milano!
What a show it has been in Milan. After two days of travelling to reach our destination, Monica and Whisper made it a well worthy journey by winning the Grand Prix!!!! I was ever so proud of them both. Whispers last win was at Nurnberger Burg Pokal five years ago. It just shows how hard work, correct training and dedication can pay off! In the freestyle Whisper lacked some of the suppleness that he had in the Grand Prix, but still came away with a credible 76.9% which placed them third, with Isabelle winning and Valentina coming second. With only one horse, we found ourselves with enough free time to be lucky to go the centre of Milan and go around shops such as Prada and Versace...who says horses is just hard work?!?!? The pictures below are of Whisper resting after his win and Monica and him in a half pass, which is by far one of their most special movements!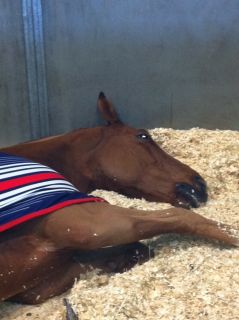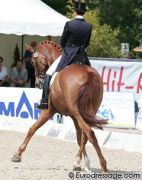 September 2011
It's all about So Ecstatic!
I travel to Milan CDI in 5 days and I am sure that Rikki is looking forward to a well earned break. Rikki travelled to Moulton college, where with the hot weather and late timing saw both of us becoming tired and exhausted quite quickly. Rikki was amazing in the novice, coming second. However, in elementary, this young horse just politely told me he was tired and that he could not perform to his best. The trot extensions were not really shown, and the crisp transitions were just lack lusture. So, although we still came a credible 5th, I knew that this chap is capable of so much more. I have been looking at our 'development' photos over the past year and I forget how much this horse has grown in such a short time. Taking the picture below and the picture of him at the bottom of this news page, its like looking at 2 completly different horses! Next outing for him wont be until November for the high profile show at Vale View, with the Racehorse classes. Lots of time to regain our energy!
Good day at Aston
With a busy week, So Ecstatic is looking forward to his day off on Wednesday! Before that, we travelled to Aston Le Walls, where it shows that hard work does pay off. Rikki won the Elementary 43 and was second in the Elementray 53. I couldn't be prouder of this little powerhouse!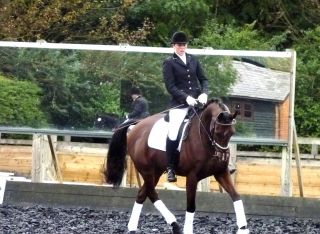 So Ecstatic is Back in Form
So Ecststic travelled to Bury Farm, which is new venue to use. With its beautiful indoor arenas, we made the most of the experience. Rikki picked up fourth in the Novice (this was because he was too busy checking out his reflection in the windows!) but pulled it out in the Elementray 53, where he was second. With every test this chap does he becomes stronger and stronger!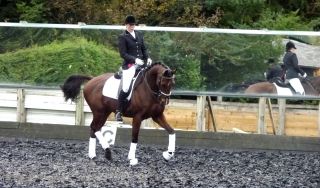 Louise is through the Final Eighteen!
For the second year, Louise has made it through to the final 18 for the Young Professionals Award, ran by British Dressage. This year Louise and one of her thoroughbred companions will travel to Carl Hester's stable for the assessment day in October. Watch this space to see how we get on!
Glum is Named and 'Famed' in this Months British Dressage Magazine
An article focusing upon the re training of racehorses, in this month British Dressage magazine saw Mister Glum being named as one of the most successful thoroughbreds in dressage to date. It was a nice surprise to see his name in print. I am very proud of my boy for this achievement!
August 2011
So Ecstatic and Meredian Travel to Solihull
Rikki and Meredian travelled to Solihull to compete in the Novice, Elementary and Medium classes respectively. Rikki has not been competing for a while and yet rode like a horse that has been doing this all his life. A little ring rusty in the first class saw a little tension creep in which reduced the marks. The second test saw him come second in the Open section. Meredian competed later in the day in the Elementary and Medium class. Considering this chap has only been in training for 2 months he did not seem out of place. I am very excited about the future of both of these boys!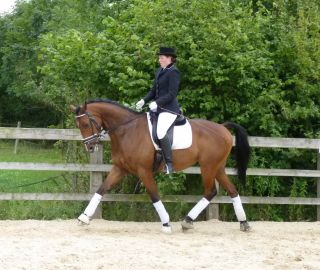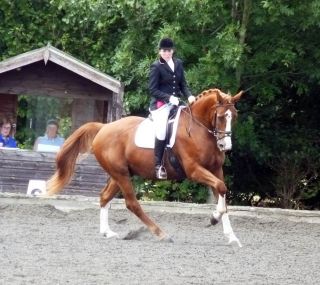 Calling All Ex Racehorses!
RoR Racehorse to Dressage Series
The RoR Racehorse to Dressage Series culminates in a Final with a prize fund of £2,000.

Run at Prelim, Novice and Elementary this series runs from 1st January through to 30th September 2011, and is open to registered RoR horses ridden by BD members. To qualify to compete in the final, riders must submit two qualifying test sheets to the RoR (originals not copies) with a percentage of 62% [or above]. Qualifying can come from Open or Restricted sections, however there will only be one Open class for all at the Final.

Horses may compete in a maximum of two levels at the 'RoR Racehorse to Dressage Final', to be held on Friday 11th November at the Vale View Equestrian Centre, Leicestershire.

The test sheets should be sent by post to RoR , Ash Cottage, Back Street, East Garston, Hungerford, Berkshire RG17 7EX, by the 14th October 2011.
July 2011
New Ride, and First Ride
We took Honourable Dreamer (HD) and my new ride Meridian, to Addington Manor. HD being the ever kind horse that he is, took all of this 'competition life' in his stride. Not phased by the warm up, white boards etc, I couldn't have been prouder of him. He warmed up and performed like a pro. I love this horses nature, attiutude to work and constantly wanting to please his rider. I am really ever so excited about this young horses future! Meridian has joined us from the UAE, from Abu Dabi. He has only been in the stable a few weeks, and is a (ex) showjumper. This horse is the complete polar to my thoroughbred boys, but his kind temperament has seen him progress quickly. He picked up 4th place in the Novice (and qualified for the championships) and unfortunately got a little tired in the elementary to perform to his ever high standard. A very good day for both boys!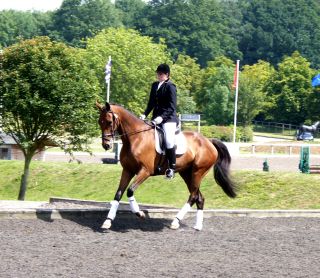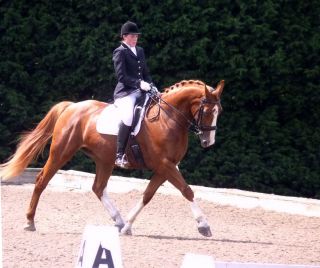 Glum Parades at Ascot
Wow! What a day!!! Glum and I were both very honoured to be asked to parade at Ascot racecourse for the King George Cup. Glum represented the 'dressage' section of the ex racehorse world. I am so so so proud of this horse, he looked fabulous and behaved impeccibly! It was very nice for Glum to parade with First Love, as they are both owned by the same person, and it was nice to see all of the ex racehorses achievements off the race track. A huge thanks to Laura from the RoR for arranging the day!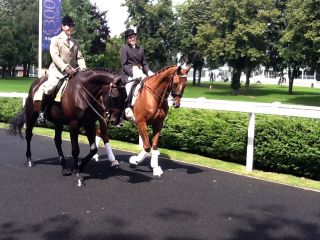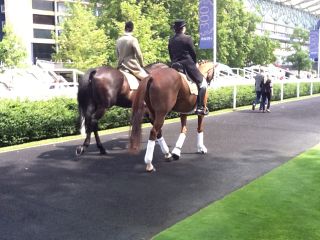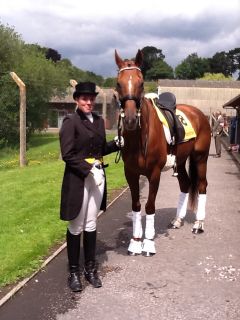 June 2011
Regional Qualification Achieved!
Talk about levaing it until the 11th hour! Mister Glum and I travelled to Solihull, where we found a judge who LOVES Glum and the way that he goes. He was awarded very well in his 'party pieces' his canter extensions and flying changes, gaining 8's for several movemens. His score qualified him for the Summer Regionals and I couldnt be more thrilled! We are still chasing that ever illusive PSG qualification, with lots of mistakes in the 105, we missed out on qualification by so little...but it is there...almost!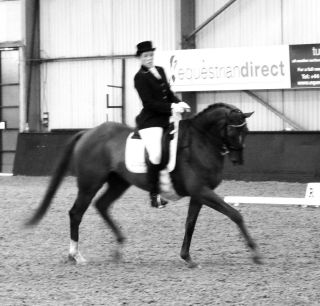 A Day for 3rd Place!
Both the boys headed to Sheepgate for the Semi Finals of the Hickstead Masters. Having only had 2 days training/preparation from my return from Munich CDI 5* I was so so proud of my boys to put their dressage legs on and leave all thoroughbred tendancies at the stable door! Rikki, solid as ever, performed well. Being so green at this level he had 'baby' moments, but also moments of shear brilliance. He was 3rd in both his classes with his scores ever improving, one judge popped her head out so say how beautiful he was, and was astounded when I told her that he was firstly a thoroughbred, and secondly only a year out of racing!
Mister G was having no luck in the arena, performing one of his better tests, he was not awarded the marks that I felt he desereved, but hey ho, thats how it goes. He to, was 3rd in both his classes, so lots of rosettes, but all of the same colour, which prevented us from qualifying; but credit to them, they performed and are 'up there' with the warmbloods!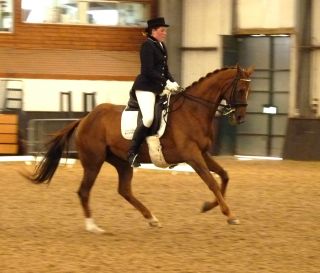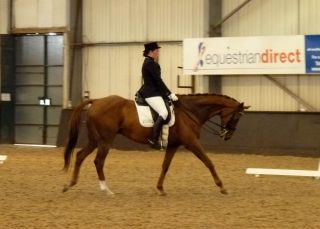 May 2011
Rikki and Glum head for the Hickstead Semi Finals!
On the 8th June Rikki and Glum will be travelling back to sheepgate to compete in the Elementary and Advanced Medium Classes, hoping to qualify for Hickstead in July. I am so so proud of the two boys to achieve this! Watch this space!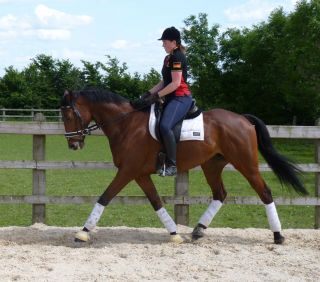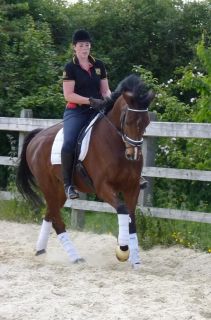 So Ecstatic Proves Himself Amongst the Warmbloods
A highly contested 6 Year Old National class saw Rikki up against some VERY well bred and produced horses. My little chap did not let me down though, he behaved like a pro and scored a 69% (6.9) even with some BIG moments of tension, which reduced the scores in the walk and the ways of training as his contact was not always secure. His scores were; 7.8 for his canter, 7.5 for his trot and a 6.8 for his walk; with a bit more ring practice his scores will only improve, but its not a bad place to start!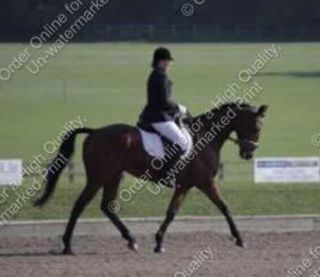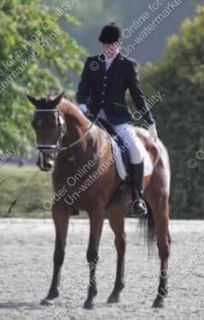 Success at Sheepgate
What a weekend! It was Rikki's first 'sleepover' at a show and he behaved like an angel. ( I was a little worried he would stay up all night partying in the stable, but Glums well travelled mannerisms kept him in check and made sure he got his sleep!) Strong winds saw flags flying high, and trees moving in directions they shouldnt be, which resulted in tension and mis communication in both Glum and Rikkis tests; however, it also affected all of the other horses too! Glum, being a little show ring rusty, saw an ok test, resulting in 5th place (nothing to be sniffed at!) Rikki out did himself, reminding me of just how little phases him and how he has a real 'lets go for it' attitude, he was 3rd in his first ever elementary! Not bad for a horse that was celebrating his year anniversary of leaving racing. The next day saw even better results. Glum performed a VERY good Advanced 100 test, missing out on the PSG qualification score by 0.5%-we will get there soon......Rikki was the horse of the wekend though, a first place in his elementary and a 4th in his 6 Year Old National class, where we were up against some VERY big names! Boys are now recovering at home....I have one day to wash some clothes and then am off the Germany for Hagen show!....NEXT STOP: Addington Premier League
April 2011
Honourable Dreamer joins Thoroughbred Dressage
I am very delighted to announce the arrival of this wonderfuul horse to our stable. Honourable Dreamer ( aka HD) is a 6 year old bay gelding, who was previously trained by none other than Jonjo O'Neil. Owned by Mary Mills, I am very excited about this young and very talented horse. For more information about HD, click here
Keep looking here for HD's progress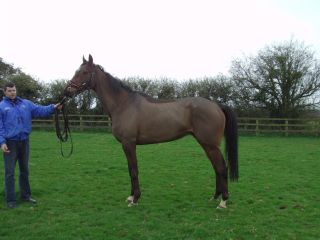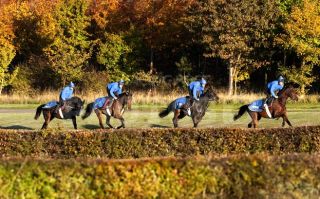 Thoroughbred Dressage Announces its First Training Weekend
Running in conjunction with Kontakt Dressage (click here for more details). The training weekend will take place 10-12th June. Over the course of the three days there will be lunge lessons, video teaching/training, talks on physiotherapy for you the rider and your horse, farriery advice and bbq's! At the end of the 3 days (on the Sunday) there is an unaffiliated dressage competition at Addington Manor, which we will accompany you to and help you warm up before your test. Enquiries/reservations are being taken now.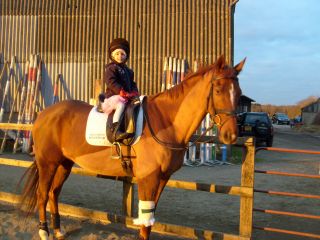 What a month it has been! With injury plauging both rider and horses, we now look forward to a summer where I hope that we have had all of our bad luck in the month of March! We have much to look forward to; Mister Glum and So Ecstatic will be contesting the Premier League shows, Louise returning to Germany for some International shows and we have a new member joining our team from a famous racing stable. All updates will be posted here!
February 2011
Double Win for Mister Glum at Solihull!
Mister Glum took both the Advanced Medium restricted class and the Advanced 100 at Solihull! With a new approach to our warm up and general way of going, it was nice to see the hard work (and quite a lot of confusion along the way) pay off. Glum was so much more relaxed and rideable-although the higher amount of changes in the advanced 100 almost boiled him over, he just about managed to keep a lid on it!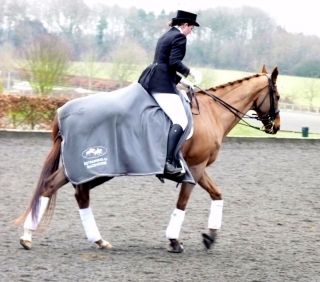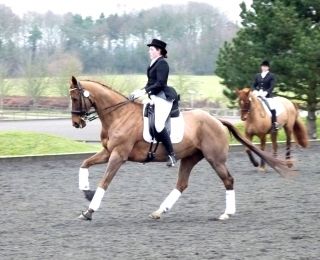 Thoroughbed Dressage Welcome Jamie's Gem
Gem is the second member of Thoroughbred Dressage. Gem is 8 years old (2003) and is already settling in well to her new lifestyle. I cannot get over just how well this mare has adapted to her surroundings. She is a sweet natured mare that means no harm to anyone! Check out more of her details here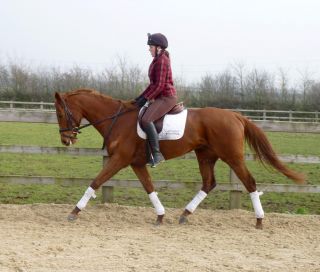 Thoroughbred Dressage take part in RoR Demonstration
Both of the boys travelled down to Dane Rawlins yard to be guinea pigs for the RoR workshop on re training racehorses into the Dressage arena. I was very honoured to go, both boys behaved exceptionally well. So Ecstatic was first to kick things off as the most recent arrival from the race track. There were a wide variety of ages and experiences there. Mister Glum was there as the most advanced horse of the day and he did not let me down, showing everyone all of his fancy leg tricks. Thanks have to go for RoR for putting on the workshop and big thanks to Dane for his helpful advice and kind words. I took A LOT away from the day and both boys really enjoyed themselves.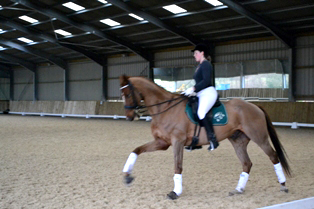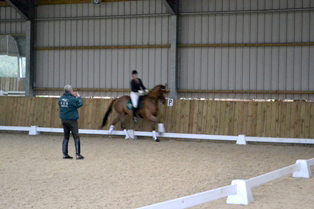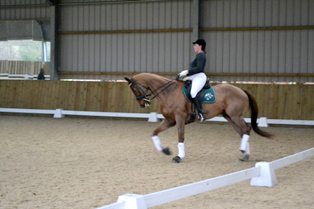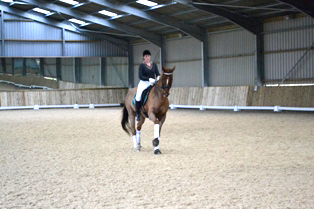 January 2011
Eclipse shows promise at Moulton Yet Again!
After two busy days at Addington Premier League with Mister Glum (report to follow) Eclipse headed to Moulton on the Sunday. he was far more relaxed this time, as only having ahd a couple of weeks since his last outing. His scores improved once again, this time coming third in a tough novice class and second in the elementary, again with a better score than last time. Due to the change in qualification process this year we now have to gain 20 points at each level with one test at least being 66%....a few ironing of misunderstandings will help us reach our goal!
A Very Good Day at Moulton College
What a day! So Ecstatic, Eclipse and Contreau ( a horse I ride on behalf of Kontakt Dressage) all had red rosettes to their names. So Ecstatic won both of his prlims, four percent clear of the rest of the field in the open section with 65 and 67%. He was a very good boy, performing his first indoor test, which was very spooky with seating, shadows on the floors and cars and he was not phased by any of it. This horse still has so much to give, and I believe that with a few more miles under his belt and learning how to settle in the medium walk he will hit the 70% barrier without a problem! Following the success of the prelim classes we moved on to the Novices where a slightly tense Contreau took the first class, with Eclipse winnig the second qualifier class and Contreau following him closely behind in second place. The elementary saw Eclipse taking a bit of a disliking to the bottom corner of the arena and tension and misunderstanding lead to a few big mistakes, which cost us. He was second though,( nothing to be sniffed at!) and with a few more frequent shows his percentages will rise. He had very positive feedback from the judges, and as I have said before I'm very excited for the year ahead with this horse!
Video of So Ecstatstic For more pictures click here
Video of Contreau
Video of Contreau Moulton (two weeks previous)
Video of Eclipse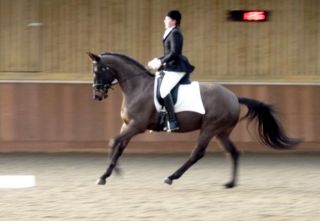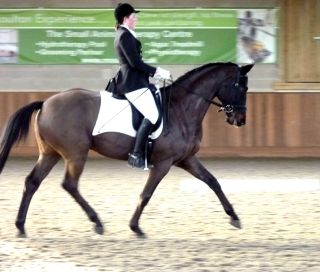 A 'First' Day For Thoroughbred Dressage-Addington Manor
Today saw the first affiliated dressage tests for So Ecstatic, and Mister Glum's first Advanced 100 test. Rikki did not put a hoof out of place all day. He walked up and down the lorry without a problem, was calm in the warm up arena even with horses bouncing around all near him, and then went and performed his tests with the head of an experienced horse.
A quick return home and swapping of horses, we were back at Addington in the afternoon for Glum's test. His Advanced Medium test he could have been rounder, and my over thinking of the test and forgetting small things, lead to a reduction in marks; however, he still came away with 61%. Our first Advanced 100 saw us score the same score as the Advanced Medium, even with added flying changes (some of them being three times.....Glum's enthusiasm!) our next trip...Swallowfield
For more pictures/Videos click here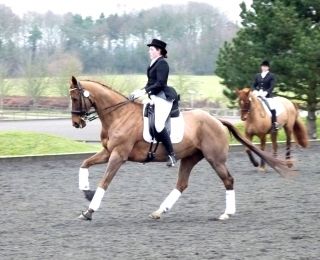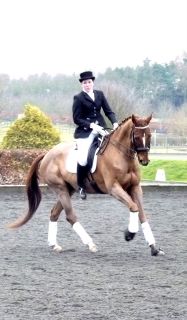 HAPPY NEW YEAR!!!!!
And what a way to start the year! I was very honoured and privileged that I was asked to go to Cheltenham Races on New Years Day to be interviewed on Cheltenham Radio. I was asked about why I re trained ex racehorses, why more people should be encouraged to support the re training and which horse/horses I would take home from what I had seen at the days racing. Of course the most obvious answer was all of them, but there were a few that I was hopping that they would come in last, so they might become available to become members of Thoroughbred Dressage; alas, it was not to be. The ones I chose all came in the top four! However, my thanks must go to Dave Farrar and his team for being so welcoming and helpful and introducing me to some very interesting people.
December 2010
Frozen in the Cold!
So the cold weather has hit us, and boy has it hit us hard! Arenas, water pipes and ground are frozen which has put everything on a slight hold; resulting in some of the horses being exercised in the nearby field! For some of the boys it is very good education for them, to learn how to work in an open space, with other horses around and not to gallop off! So far all jockeys have stayed on board!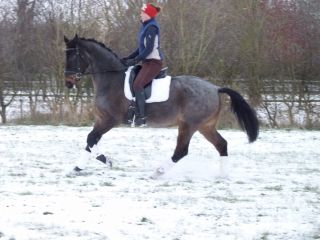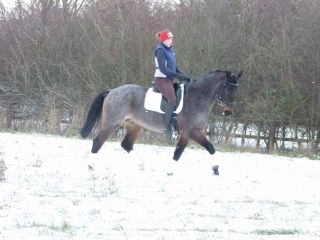 Good day at Aston Le Walls
Eclipse is proving that he is liking the new questions posed to him by competing at Elementary Level. He was 2nd and 4th in his classes today. Eclipse will now have a period of rest from competition to strengthen him for the coming season.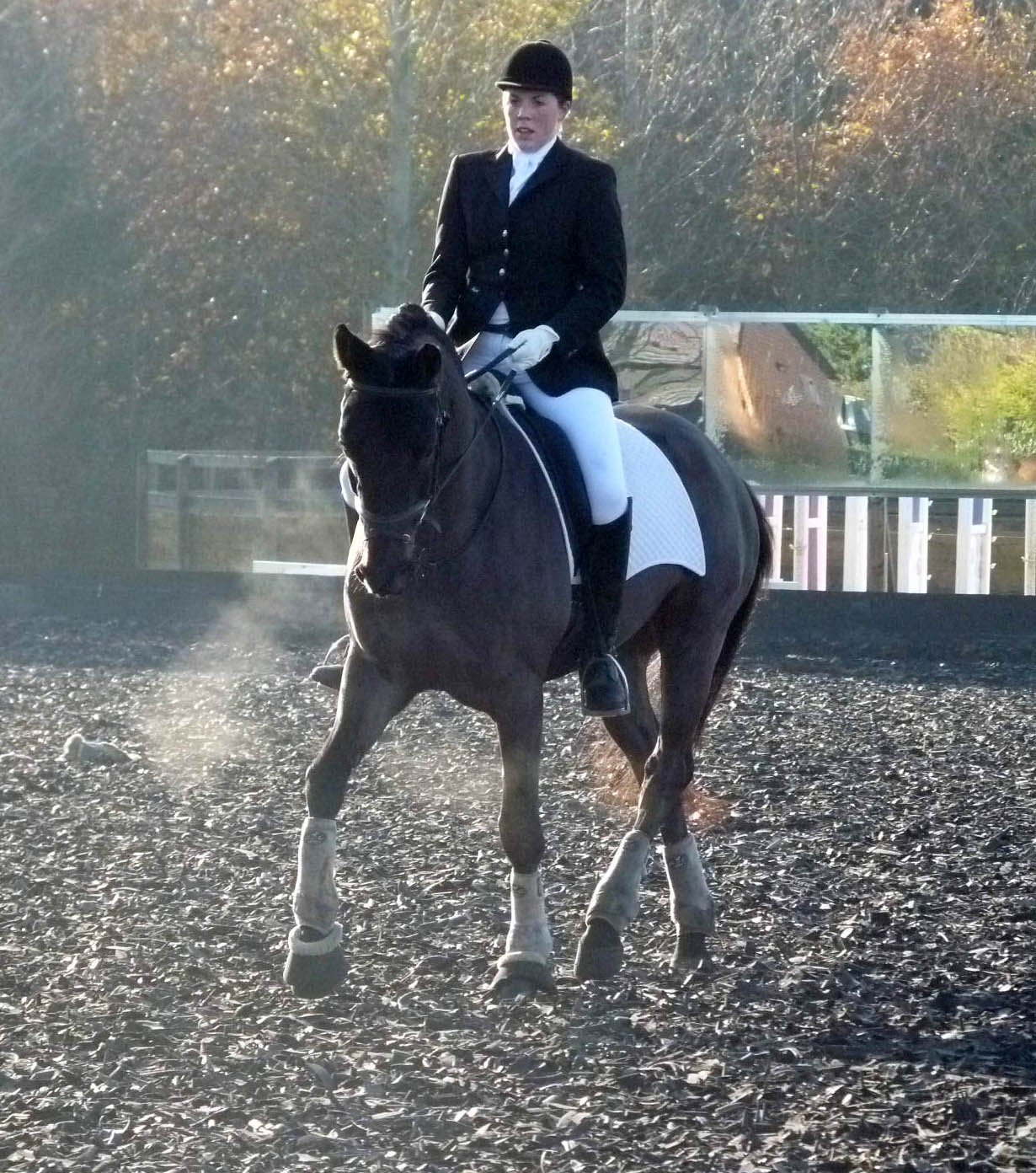 Eclipse II wins on First Outing!
On his first outing at Elementary level Eclipse scooped up first place in both his classes with 65%+. A very promising start for this young horse. Keep watching for updates!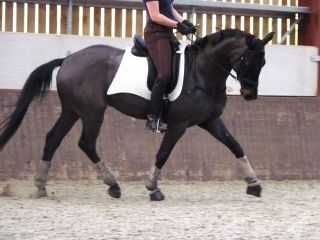 November 2010
Throughbred Dressage Welcomes its First Official Member!
Welcome to So Ecstatic. (aka Rikki to his friends) Rikki is a 5 year old bay gelding, who finished his hurdling career in May this year. He was with a family that have done a little bit of everything with him, and he has now come to Throughbred Dressage to start his dancing career. With a fabulous canter and lovely over-track in the walk, I am very excited about what this youngster may bring for the future. Watch here for further updates.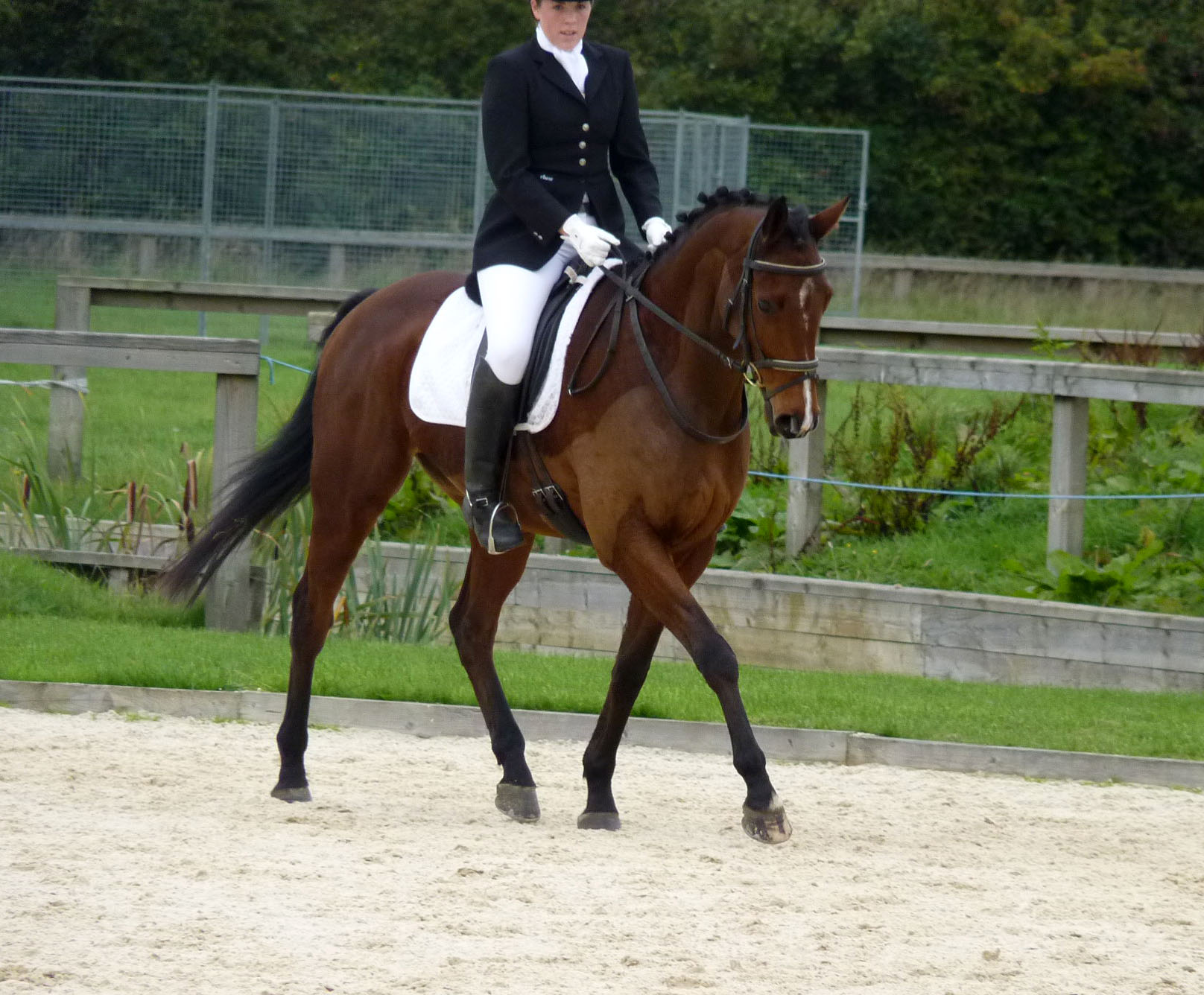 Glum and Louise attend British Dressage Young Professionals Viewing Day.
I was very lucky to be selected asone of the final 18 for the British Dressage Young Professional Award. This is an award that is a cash prize of training benefits to the sum of £4,000. There were three venues for six applicants to go to, ride and discuss their furture plans within the dressage industry. My venue ( I was very lucky) was at Catherston Stud, home of Jennie Loriston-Clarke. In the morning we rode one of our horses, and Jennie trained us. I, of course, took Glum along. The rest of the day was full of watching the other applicants ride and train, and discussion based. Unfortunately I did not get through to the finals, which are to be held in February at Talland Equestrian, but the day was educational and enjoyable and I met some lovely people, and good luck to those who are through to the final!